The appeal of high heeled shoes starts with basic and comfortable designs we all rave about due to the walking-on-clouds effect produced by the most talented of designers.  From there, heels tilt all the way to the other side of the spectrum to the wildest and craziest concoctions that even the runway models refuse to put their feet in, sometimes reaching up to ten inches or higher.
While there are several name brands that obviously stand out within the world of heel fashion, only a few names are often repeated as being among the most talented with the most provocative visions. These include Alexander McQueen, Christian Siriano, and Fendi, who will be remembered as three of the wildest high heel designers of 2010.
Alexander McQueen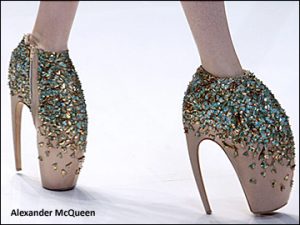 Topping the list with his deranged rendition of wild is Alexander McQueen with his technologically advanced fantasy-world high heeled shoes that are decades ahead of anything else currently seen on the market.
Not only do they make a statement with their form, they add an unbelievable ten inches of height to the brave wearer of these shoes.  Embellished with beads and pearls both shiny and metallic in color; the two choices to pick from are either the rounded shoe that resembles a lobster claw or the dazzling aquamarine high heel that looks like a dragon that came straight out of a science fiction movie.
While definitely not for everyone, wearing McQueen's footwear is guaranteed to grab attention wherever the wearer may go.
Christian Siriano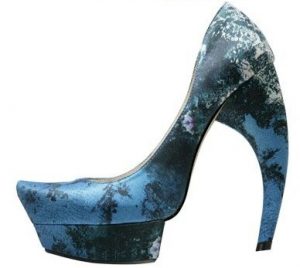 Christian Siriano's masterpiece on a platform wins the next spot on the list. This shoe has curves all over the place from the soft C-curved heel to the rounded platform that adds an inch underneath the front part of the shoe.  The metallic colors that decorate these bizarre works of art come in tans and blues splashed with several flashy patterns and fabrics.
Carrying a price tag of only $79.99 and exclusively found at Payless, Siriano bestowed runway status on shoes that were affordable on almost any budget.
Fendi
The third and final wildest shoe designer is presented to the Fendi clear heels, named after the transparent and purple tinted platform under the ball and toes of the foot.  These heels stand with a ridiculously high, slender heel on the back of the shoe and a petite leather strap across the front of the ankle.  The one accent that makes these shoes stand out among the competition is the fabulous attention grabbing soft fabric that wraps up around the ankle and leg.  Not only are these heels a daring fashion statement that are sure to impress even the most savvy within the industry, but the sleek and sexy look will likely change the standards within high fashion for years to come.
Marvelous, extreme, and untamed have all come in one package this year. But then with imaginations like Alexander McQueen, Christian Siriano, and Fendi in the line up, what else do people expect?