Who said fashion was a fickle industry? A roundup of celebrities including Sienna Miller have donated their party shoes to a charity auction with a cause–Killer Heels to Kick out Killer Disease.
A fabulous array of designer shoes from iconic labels Alexander McQueen, Mahnolo Blahnik and Charlotte Olympia have been donated to the charity, where they will be put on display at Mary's Living & Giving shop in London's trendy Westbourne Grove.
Shoe-lovers can peruse the assortment of delectable designer heels and bid on their favourite pairs. All proceeds will go to Save the Children, a non-profit organization that provides essential care and services to children in high-risk disease areas in third world countries.
There are 125 stores set up around London and the UK where shoppers can check out what's on offer and place a bid. The sale ends on December 10, 2010, so if you are a UK-based shoe aficionado, get down to a participating shop soon! Your next pair of heels could have graced the red carpet on the tootsies of an A-List celebrity. Or, you may even score a brand new pair of heels donated by designer labels like Camilla Skovgaard.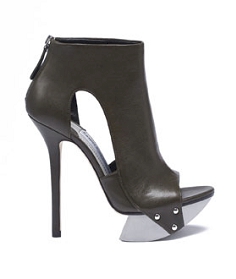 Camilla Skovgaard peep toe ankle boots with light grey platform soles and cut-out side panels, size 39
And the best part? The feel good factor knowing that your new purchase has made a difference to a child in need.
Credited sources: