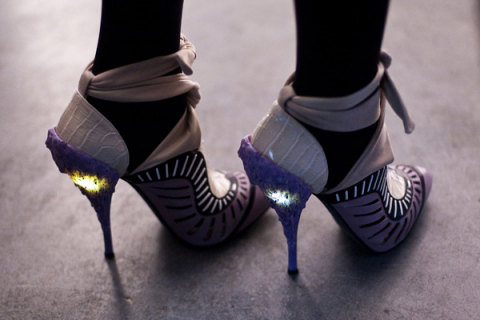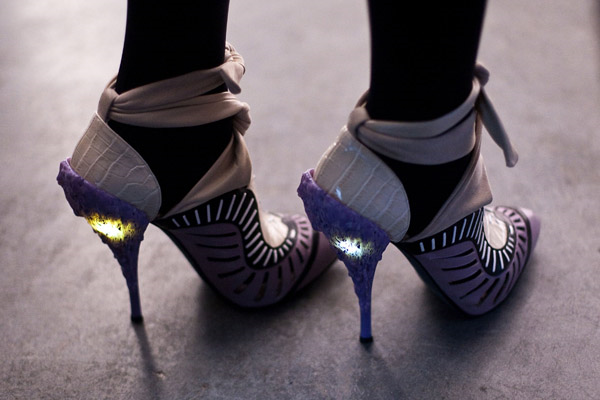 When the models of the Rodarte Fall 2010 show graced the catwalk wearing oh-so-futuristic illuminated heels earlier this year, shoe-lovers everywhere relished the thought of modern technology taking their heels to another level. The man behind the ferociously modern shoes was none other than Nicholas Kirkwood, a London-based designer that has gained a cult following for his impeccable skill in shoe design (Image via fashioningtech.com).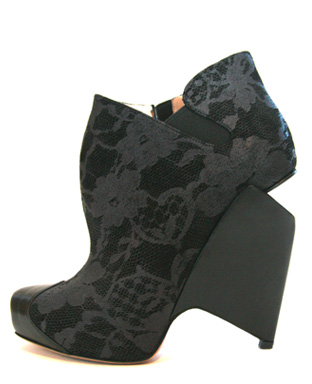 Image from nicholaskirkwood.com
His design style is instantly recognizable—built with an architect's precision and a sculptor's creativity; Kirkwood's shoes  embody women in 2010 and beyond. Blending colour, texture and the occasional hi-tech feature like built-in lighting, Kirkwood creates wearable works of art. So just where did this designer-du-jour get his eccentric design style from?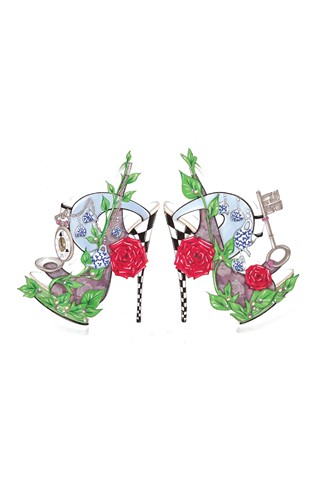 "Alice in Wonderland" design created for Parisian store Printemps (Image from vogue.com)
As a graduate of the esteemed Central Saint Martins College of Art& Design in London in 1999, Kirkwood landed a job working with the infamous milliner Philip Treacy. Inspired by Treacy's statement hats (that are often adorned by celebrities and royalty alike), Kirkwood set out to create luxe footwear unlike any other, that would inspire the fashion world much like Treacy's collections.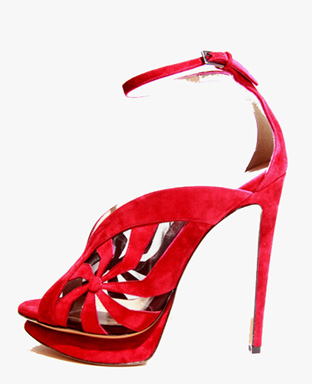 Image from nicholaskirkwood.com
He started out by creating footwear for catwalk shows for select British fashion designers like Ghost and soon garnered mass media attention and numerous awards for his innovative designs. Today, Kirkwood has collaborated with high-end brands like Swarovski and Pollini, and set up his own retail spaces in London and Hong Kong.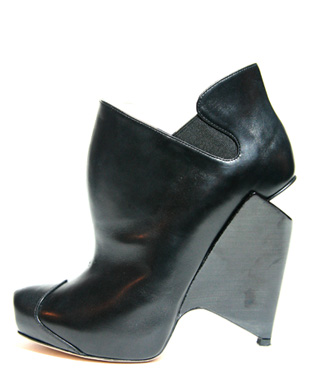 Image from nicholaskirkwood.com
Love the look? You can find Nicholas Kirkwood near you by searching worldwide stockists here.