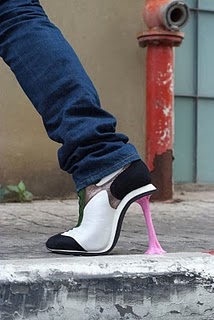 Don't you just hate it when you step in gum? Especially when you're wearing a pair of shoes that you particularly like. But what you see here isn't quite what you think. It might look like someone wearing a pair of sneakers stepped in a wad of sticky pink bubble gum. Actually, what looks like gum is actually a high heel! The shoe was created by Israeli designer Kobi Levi, whose unparalled perspective results in shoes that blur the lines between fashion and art.
"When I design a shoe I think about it as a sculpture to wear, an art piece you live with," says Levi, whose shoes appear in the Virtual Shoe Museum. "You and your body affect its look and it affects yours. Footwear should have its life with and without being on the feet, on the contrary to cloths that exist only when being worn"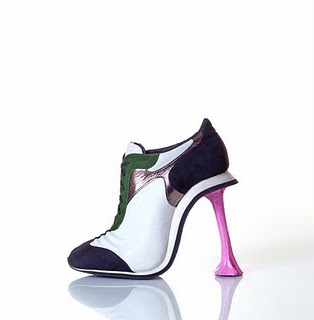 Levi graduated from Jerusalem's Bezalel Academy of Art & Design in 2001. He has worked and presented exhibitions around the world, in such places as Italy, Brazil, Tokyo, Berlin and many other places. Like a true artist and craftsman, all of the designer's pieces are handmade in his studio. Though his tendency is more toward conceptual footwear, Levi is also working on a line of shoes with a more commercial bend, though they are for men.
Besides his quirky and humorous shoe sculptures, this designer also has a knack for creating provocative pieces. In fact, Levi literally puts the S-E-X in sexy heels. The pair below, for example, are called "Blow" for reasons that should be obvious, but which we won't detail here. The XXX Pump goes even farther, but we'll let you check it out yourself on the designer's site.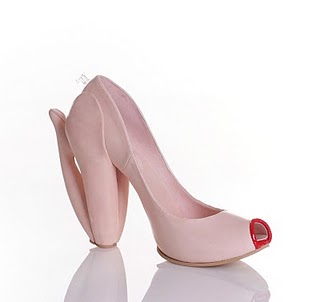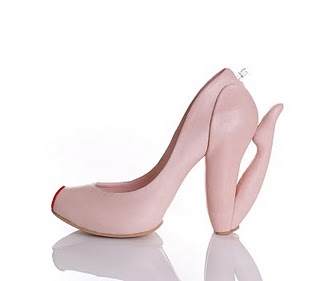 Thankfully, there are plenty Kobi Levi designs that are perfectly SFW (safe for work). Clearly, the designer is inspired by many objects and images that he sees around him and he's bold enough to translate these inspirations, quite literally. Perhaps not the key to commercial success, but certainly a good way to gain notoriety. Check out more shoes below and even more here.