We've all seen those cute foldable flats that tuck nicely into our handbags, ready to relieve our feet after a stint in torturous high heels. It has become a staple in most women's wardrobes by now and for good reason- there is nothing like slipping on a pair of flats after a long day (or night) in heels to make your journey home more comfortable.
But the foldable trend isn't just modernizing the world of flats. Yes, you guessed it, the foldable heel is well on its way to becoming a mainstream accessory with the help of some visionary shoe designers out there. But just what are the benefits of a foldable heel? Is it comfort, versatility, or both?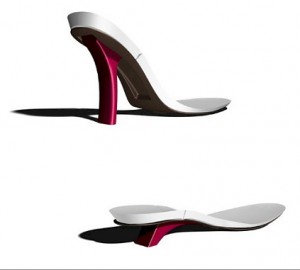 Marte Den Hollander is the creator of Footloose- a high heel shoe that can convert into a low heel with a switch of the heel tip. She says, "I designed a shoe with a high heel, which can be changed into a shoe with a low heel. No more extra pairs of shoes in your bag, no more trouble driving a car or walking stairs, no more painful feet, no more knee and ankle damage."
It's perfect for women who want a versatile heel that can adjust with their comfort level. The design has been patented, so Marte den Hollander's shoes may well be in your favourite shoe shop before you know it.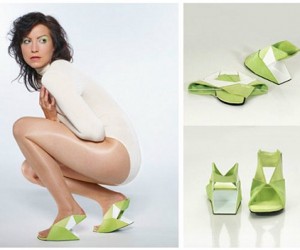 Innovative designer Catherine Meuter also created a shoe with comfort and versatility in mind. She says of her EIN/TRITT origami shoes, "Flat shoe patterns with reinforced parts get folded and fixed. The client experiences the transformation of the shoe from its initial flat state into a comfortable wearable object. From the formal aesthetic point of view the folding gives the shoe a more architectural character."
What's not to like about these fascinating heels? They're compact, über -modern and comfortable, not to mention the luscious lime green colour.  Origami and foldable heels may well be the way of the future in the fashion world… watch this space!