If you haven't heard of Etsy.com yet, it was just a matter of time before you did. The site is a centralized marketplace for people worldwide who want to buy or sell handmade items as well as vintage items and crafting supplies.
Exclusively-vegan sellers as well as sellers that have a partial vegan inventory have a solid presence on the site, which is great news for vegan shoe shoppers looking for an interesting pair to purchase and wear.
Etsy shops that offer vintage items for sale are one good source for vegan shoes. The shoes you find may not have been manufactured by a company with a vegan focus; instead, they could have been made from synthetic materials by a non-vegan company but are vegan nonetheless. If you love retro or vintage heels but will only buy vegan shoes, this is one shoe-shopping avenue for you!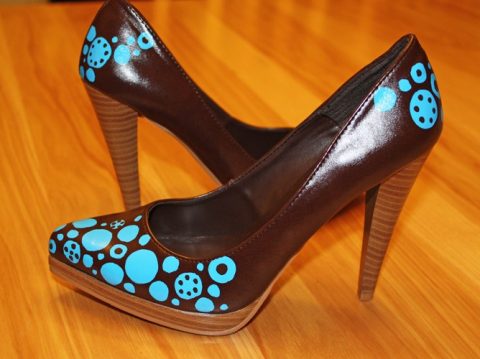 Other Etsy shops feature vegan heels that have been embellished by the sellers. Embellishments can include painting or the addition of fabrics, buttons, jewels, and other decorative items. Be sure to verify the materials added and their components, especially if they are vintage items. For example, today organza is usually made from synthetic fibres, but higher-end organza as well as vintage organza can be made from silk.
The vegan high heels above are made from man-made materials and were hand painted in baby blue and chocolate brown. Created by Rockstarlette of Anchorage, they're size 6.5 and available on Etsy for US$79.
The biggest benefit to shopping on Etsy for vegan heels is also its biggest drawback, unfortunately. While buying your vegan heels on Etsy virtually ensures that you will receive a one-of-a-kind pair of shoes, their very uniqueness means that if you don't purchase a pair you love in your size as soon as you see them, you cannot be certain that the shoes will still be available for purchase should you decide to buy them later. However, give your impulsive side a chance to be in charge, and you—and your fashionable feet—will be glad!