Previews of Christian Louboutin's Fall 2011 collection are available now and from the first glances it seems the designer is feeling frisky this year!
The above is the "Alex" pump, featuring a lion's paw shape around the toe. They certainly are wild, but are they Hot or Not? And the collection get's even wilder. Below is the "Puck" fur covered bootie, whose curled toe makes it's name absolutely perfect. Wear these and you should definitely expect your shoes to be the center piece of your entire look.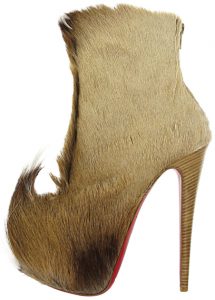 Catch a few more lovely high heels from the collection in the gallery below.