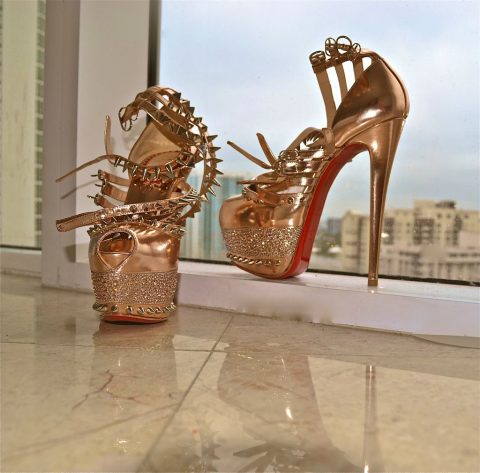 In celebration of the Christian Louboutin 20th Anniversary, Neiman Marcus has launched a social media challenge, with one winner to be chosen at random to win a pair of Louboutins.  The challenge is called "Sole Seekers" and it asks users to upload Christian Louboutin footwear images via Instagram and Twitter. The images are then aggregated on NMdaily (the Neiman Marcus blog). The challenge is open to entrants in the USA and District of Columbia only.
Some of our favourite images submitted so far accompany this story, from users @Everything CL, @TheFashionLaw and @heydoyou.
The rules of the challenge are as follows:
Participants are encouraged to submit photos of either their own Christian Louboutin shoes, Christian Louboutin shoes they see at Neiman Marcus stores or on NeimanMarcus.com via Instagram or Twitter.
Photos submitted via Instagram and Twitter must contain @NeimanMarcus, @LouboutinWorld, and  #NMLoubiLove in the caption to be entered to win.
All images will be aggregated in a single online feed.
After one month a rich album of Christian Louboutin imagery will have developed on the "Sole Seekers" Facebook tab andNMdaily post. One winner (who submitted an image) will be selected at random.
Users may enter as many times as they like from both Instagram and Twitter, but must submit different images each time.
Users submitting images of shoes not manufactured by Louboutin will be disqualified.
The contest closes on 10 March 2012.