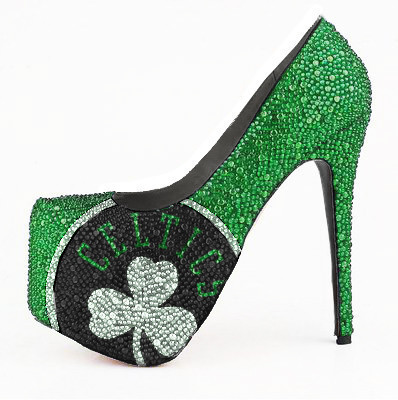 Just in time for the finals series, the NBA have partnered with HERSTAR to launched NBA high heels for female basketball fans. Two different styles of NBA high heels are now available – a limited-edition, crystal-encrusted 6 inch pump is the expensive option, and there is a more modest (and less high) microsuede 4 inch pump on offer as well. The heels will be available in both styles for all 30 NBA teams.
The "blingy" option is pictured above, in Boston Celtic livery. These shoes are fully hand strassed in luxurious, hand selected Middle Eastern crystals, offset by a sky-high 6" heel and 3″ internal platform. Also available in Swarovski Crystals, the shoes are custom made and require 6-8 weeks to produce. The Boston Celtic 6 inch pumps are available from HERSTAR for $274.99 in sizes from 5-12.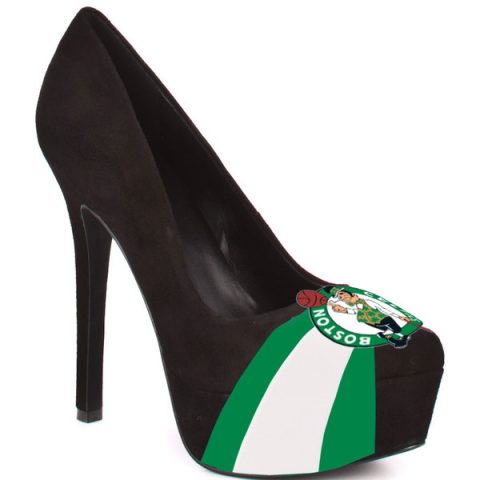 The more moderate option is this microsuede pump with almond toe, also pictured in the Boston Celtics colors. This pump has a 4.5″ heel with 1.25″ platform. It's available in sizes 5-11 from HERSTAR for $99.99.
The NBA partnership has been described as a "slam-dunk" for HERSTAR, by its founder and CEO Holly Joffrion: "We understand how much women love their shoes and recognize that going to an NBA game can be an event beyond the hardwood. We're able to combine the love of basketball and footwear together, allowing female fans another way to display their passion for the game."
The line of high heels has been said to represent the first-ever officially licensed sports high-heel collection, and with a lucrative female audience waiting it is probably only a matter of time before more sports get on board. Hopefully more designs will also be on the cards,  particularly as sneaker high heels are very popular right now.
Here are some more of our favorites, starting with the New York Knicks high heel microsuede pumps (HERSTAR, $99.99):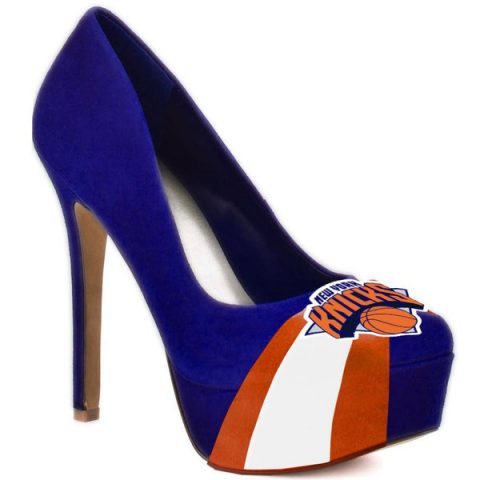 Indiana Pacers limited edition crystal pumps (HERSTAR, $274.99):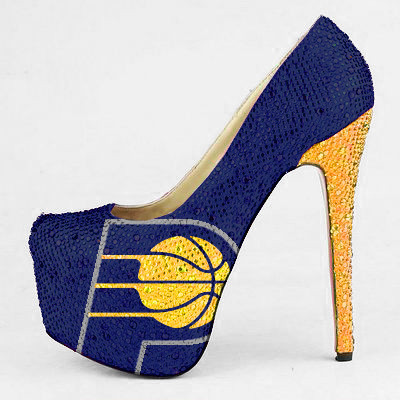 Philadelphia 76ers limited edition crystal pumps (HERSTAR, $274.99):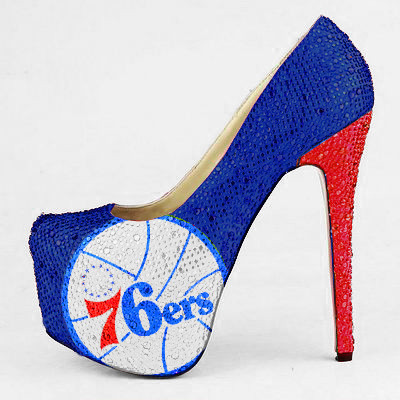 Cleveland Cavaliers high heel microsuede pumps (HERSTAR, $99.99):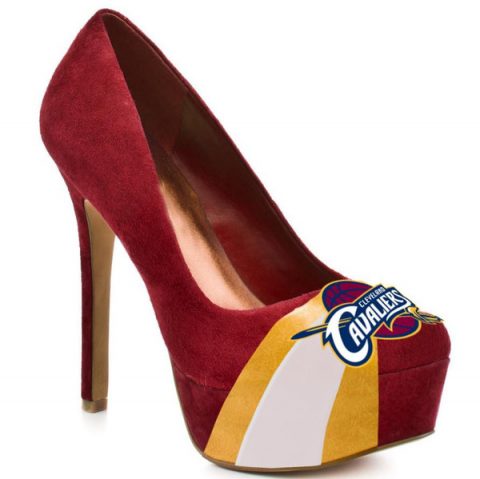 Shop the rest of the collection at HERSTAR.com.