I'll admit that I'm a sucker for glitter but everything about these new high heels from Dsquared2 had me at hello.  They are simply too cute for words, and fashionable too as they dial-in to hot seasonal trends like floral embellishments, glitter and the now ubiquitous spikes.
The pretty party shoes are from Dsquared2's fall / winter 2012 collection, and they come with either a white or a "glitter rosa" toe and ankle strap. In both cases the delicate-looking bunch of flowers arranged on the outside of the heel is in the same red, green and blue formation.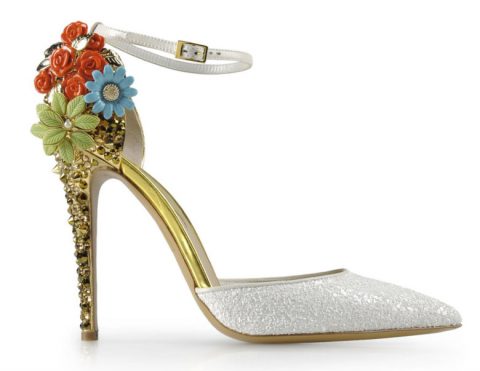 A lot of kudos has to go to Dean and Dan, the Canadian twin brothers behind Dsquared2 as I'm already picking these heels as the cutest party shoes I've seen in a long time. They could be a celebrity party favorite too, with the silly season just around the corner. Unfortunately these Italian-made heels have celebrity and designer price tags. The rosa is available from Zappos for $1,645 and the white from Dsquared2 direct for $1,756. But a girl can dream.