Vincenzo Somarrelli is the owner and creative director of Vs2R, and the boy can sure design high heeled shoes. The brand was founded in 2011 and aims to mix geometric design with an almost scientific approach. As if this wasn't enough Vincenzo claims the look is then "softened and illuminated by a profound sense of plastic and aesthetic surgery"!  Whatever, but we like it.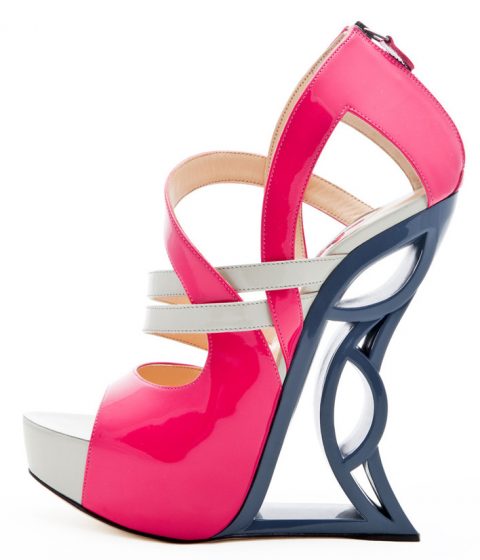 The designer began life studying environmental engineering, but followed his talent and took up a 3 year course in fashion design at the Istituto Europeo di Design. Recently he told Vogue that he gets his inspiration from architecture and that he has always been fascinated by metal, concrete and wood structures. In particular, Vincenzo says he was captivated by the connectivity that bridges offer in joining different places and elements.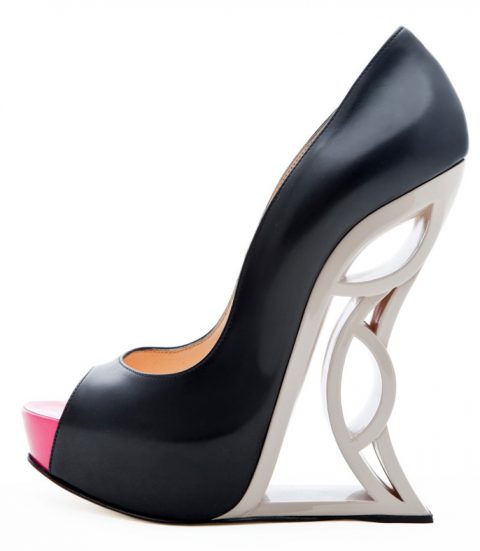 Some of the gorgeous designs are available to buy through TheCorner.com, including the black leather peep-toe pumps pictured above. The sculptured heels are 5.9 inchs high with a 1.2 inch pink platform highlight. They retail online for $808.
You can see more of the collection from Vincenzo Somarrelli for Spring and Summer 2013 in the pictures below and on his website Vs2R.