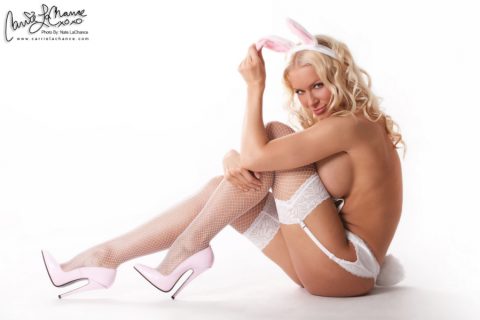 Happy Easter from HighHeelsDaily.com! We hope your Easter weekend is filled with some of the very best things in life, like chocolate and high heels.
Today we feature model Carrie LaChance as the Easter bunny – in white lingerie, with bunny ears and of course a little bunny tail. Carrie's wearing some hard-core, six inch pumps which can be purchased on her online retail store www.archenemys.com which Carrie runs with her photographer husband Nate. Check it out for lots of very high, sexy stilettos.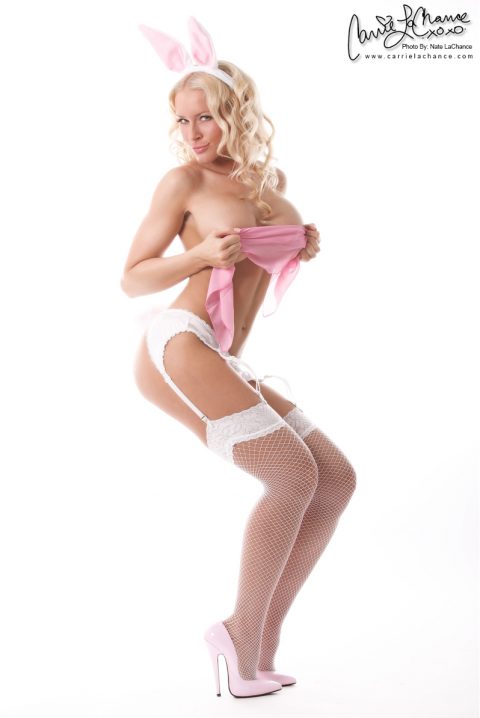 When she's not dressing up for sexy photoshoots, Carrie has plenty of other things going on in her life. Carrie and Nate have just moved to Portland Maine a few days ago and they have been busy setting up their production and photography studio there. The couple have also previously run a bricks and mortar retail shop, which they plan on re-opening in Maine in the future although not right away. But for now high heel lovers can go shopping from their computer at Arch Enemys.
VIP Members of Carrie's site can view her full Easter Bunny photo set on www.carrielachance.com in the VIP gallery.
Have a very happy high heel filled Easter.