It may only be the start of April but already I'm claiming it is going to be very difficult to find a prettier d'Orsay peep toe than these new Casadei heels this side of next year.
The glossy patent sandals have a 3.9 inch heel which is perfectly practical for both work and play. Their classical d'Orsay cut reveals the arch of the foot, a time-honoured and elegantly sexy shape.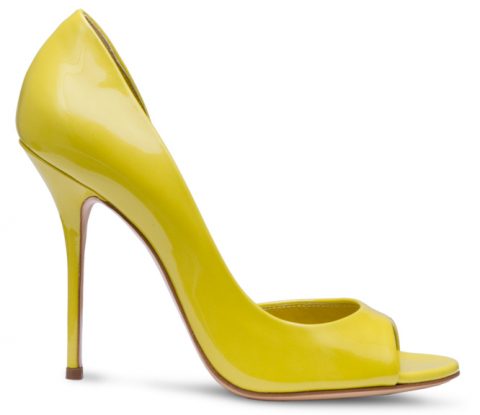 Stylists often recommend that very woman should have at least one pair of d'Orsays in their wardrobe whether for date night or to lift an otherwise plain or formal outfit. However with this shoe we don't recommend stopping at just one pair. The heels are available in four colors: light blue, black, yellow and "ecru" (which is more or less how posh people refer to beige), and I wouldn't half mind a pair of each.
The Casadei "Softymetal" d'Orsay peep toe pumps retail at $560 from the designer's website. The shoe is from the Casadei Spring / Summer 2013 collection, which we'll be featuring more of here  on HighHeelsDaily.com over the next few days.