Walking in high heels can be hard enough but how about running in them? Today we take a look at world records for running in heels, and find that some women are very good at it indeed!
The most recent noteworthy performance for running in high heels was provided by German teenager Julia Plecher.  On 11 July 2013 Julia broke the world record for running 100 metres in  heels, sprinting the distance in a new record time of 14.531 seconds. The 18 year old achieved the performance at Europa Park, a theme park in Rust, Germany. Her world record was filmed for a television show called Wir Holen Den Rekord Nach Deutschland (which translates as "Let's Get the Record to Germany").
[youtube=http://www.youtube.com/watch?v=WJ2DC2X1e5k]
Julia's time – a fraction less than five seconds slower than Usain Bolt's world record of 9.8 seconds for the 100 metres – has earned her a place in the 2014 edition of the Guinness World Records Book.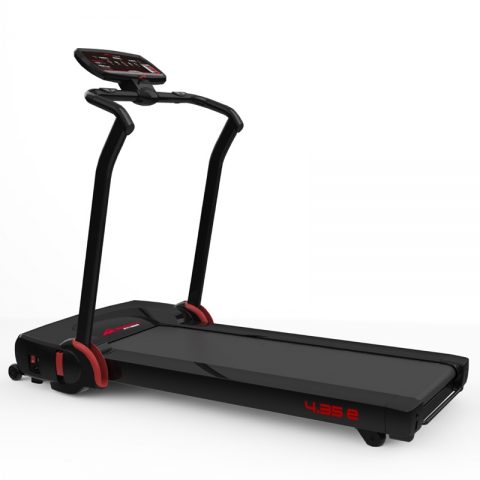 Guinness also recognises two other records for running in high heels. The first is a team record for the furtherest distance covered in an hour by a team on a treadmill. The record was set at 265.6 km (165.04 miles) by a team of 50 German women running simultaneously on treadmills on the set of the television programme Germany's Next Top Model by Heidi Klum.™ Despite the name of the show, the record was set in Austria.
The record figure was calculated by adding together the total distance each woman ran on their treadmill during the hour. And in case you were wondering, the treadmill used was a Smooth 4.35e Treadmill (pictured above).
[youtube=http://www.youtube.com/watch?v=1jE4HCfoqaY]
The second high heel world record recognised by Guinness was for a women's 4 x 100 metres relay in stilettos. This record was achieved at the Venus Embrace Closest Stiletto Relay event held at Circular Quay in Sydney, Australia on 28 September 2010. The event was a fundraiser for Australia's National Breast Cancer Foundation and raised over $100,000.
The winning team was called The Pinkettes and their time was 1 minute 4.19 seconds. The team members, who were all Australian, were Brittney McGlone, Jessica Penney, Laura Juliff and Casey Case. According to Guinness the stilettos used all needed to be at least 7cm high (2.75 inches) although the report of the event which you can see above mentions 3 inches. Heels also had to be no thicker than 1.5cm (0.59 inches).
[youtube=http://www.youtube.com/watch?v=SL9LYwSU_M8]
Finally, we've found one more recent feat that could lay claim to being a high heel world record, this one set by Jodie Fox, a co-founder of design-your-own-shoes website Shoes of Prey.
In June 2013, Jodie put on a pair of Shoes of Prey high heels and ran the famous Bondi to Bronte coastal track in Sydney, Australia. Seeing as it is unlikely that anyone has ever attempted this run in heels before, then we think that should count as a world record too – however long it took her!
Not only that, but Jodie is practically dancing on Bronte Beach afterwards which might suggest that her claims about the comfort afforded by Shoes of Prey heels have, um, legs. Check out the video for vision of an epic run in what would appear to be some pretty, practical heels  which seem to have made their creator very happy!