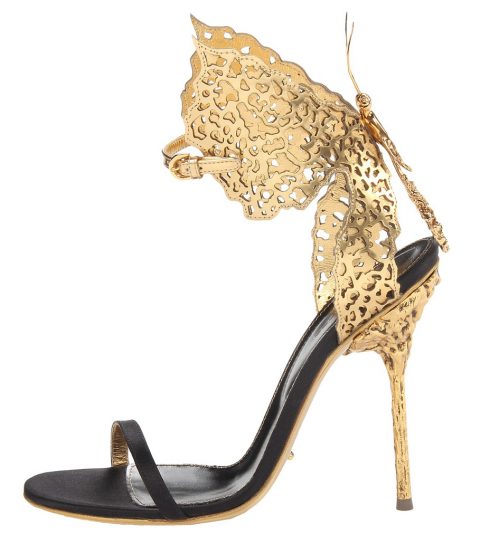 Today's featured high heels are truly fly. They're beautiful new 4.5 inch sandals from Sergio Rossi, the highlight of which is a gorgeous gold-tone butterfly detail that wraps around the side and back of the foot. When I see a creation like this, it serves to remind me that the Italian brandname deserves to be considered in the same breath as other big-name, high-end high heel designers that soak up so much press attention.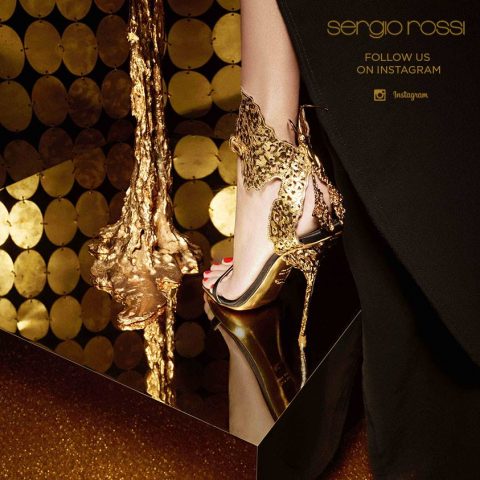 High-end is certainly what this shoe is, and it has a price tag ($1,150 from Zappos
) to match. But it's totally worth it. The shoe is handmade in Italy with the care and attention for which Sergio Rossi heels are known: the label boasts that there are a minimum of one hundred and twenty steps that are taken before a shoe is placed in a box for sale with the Sergio Rossi name. You will also get a shoe made of decent materials for your money (the lining, insole, outsole and upper are made of quality leather as you would expect).
The Sergio Rossi high heel with gold leather butterfly is called Filigree, and we can expect to see more of this shoe on celebrities and social butterflies alike. Filigree is selling quickly through Zappos
 where it is now available only in limited sizes.