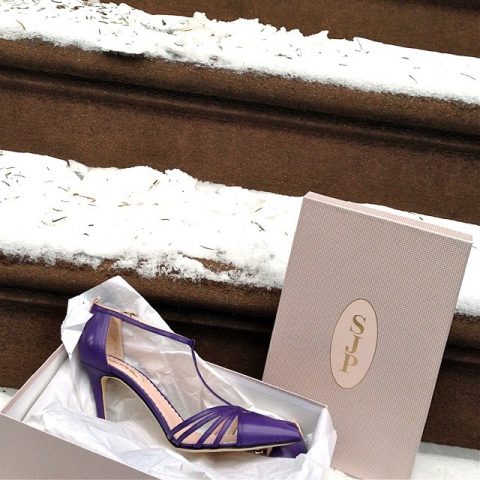 Ever since Sex and the City actress Sarah Jessica Parker's shoe line the SJP collection was announced way back in June 2013 the brand has been slowly teasing its social media followers with hints and glimpses of what is to come when the collection finally debuts at selected Nordstrom stores and via Nordstrom.com on 28 February 2014.  Some things are starting to become clear: although it has been nearly 10 years since Sex and the City finished up, it now seems certain that the collection will draw heavily on its celebrity designer's roots in the iconic TV show. Of course Carrie Bradshaw – SJP's character in SATC  – was famous for loving designer shoes of all kinds, but she had a particular soft spot for Manolo Blahnik. And in what can only be life imitating art, the SJP collection is being produced in association with no less than George Malkemus, the president of Manolo Blahnik USA.
It's probably no surprise then that SJP has today revealed via Instagram a strappy, closed-toe, single-sole pump called Carrie! Purplish in color (this may be SJP's version of navy blue, but it looks purple enough to me), the Carrie has a low-riding T-strap and features four criss-crossing straps of the same hue near the pointed toe of the shoe. It might perhaps be said that this high heel would have been a little conservative for Ms Bradshaw back when she was ripping it up in her glory days, but the shoe is lovely and I can see how this classical, understated design could appeal to a wide audience.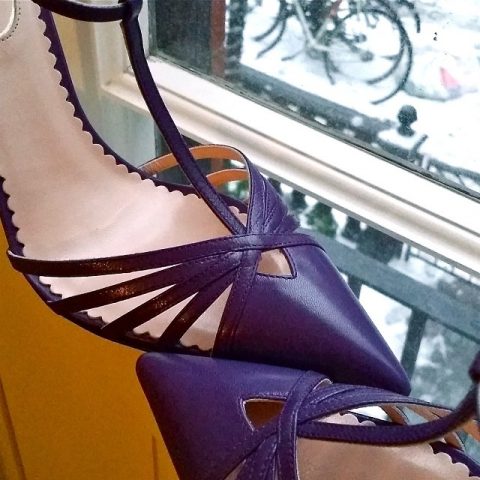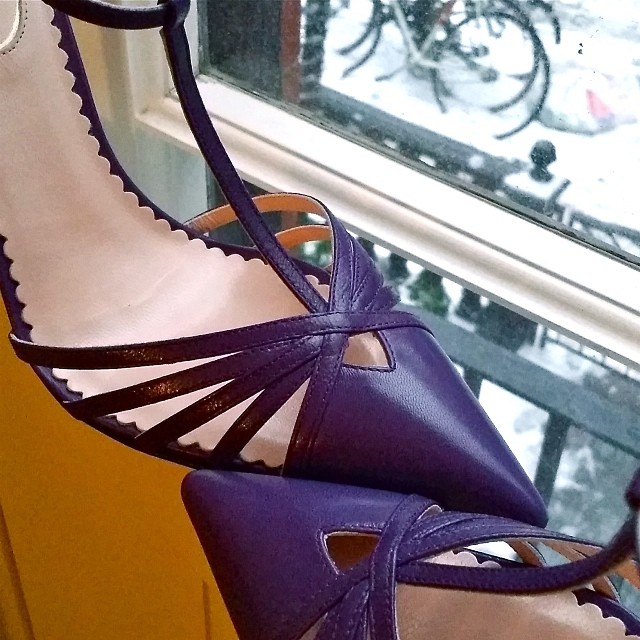 If the SJP Collection has got its slow-reveal social media policy right – and that itself will be an interesting question – the Carrie pump should fly off the shelves when it finally becomes available next month. We'll certainly be watching with interest. One thing we are sure about right now is that the SJP Collection will be using plenty of the purple / navy / French navy color used in the Carrie shoe in some of Sarah Jessica Parker's other shoe designs too. Here's a close-up of another of the Italian-made high heels below, also from the SJP Collection's Instagram page (and yup, the page is run by SJP herself apparently).