With just less than a month to go until Valentine's Day, it's time to start thinking about footwear for that Valentine's Day function. Whether you're planning a romantic date with your partner, or a single girls' night on the tiles, we think it will be hard to go past a pair of Luichiny shoes or boots – the brand that wears its heart on its sole.
<UPDATE, February 2018: These boots retailed through heels for $109.99 way back in 2014. They are no longer available. If the position changes, this post will be updated with a link.>
Each pair of Luichiny shoes has a strategically placed red love heart on the sole of the shoe, and the brand's boots also follow this trend. Luichiny is one of a growing group of labels that focuses on eye-catching designs at reasonable prices (think Privileged, Jeffrey Campbell, Irregular Choice etc).
The Luichiny brand itself has been around for several years now, having been purchased by Demand Shoes of Missouri in December 2005. The original designer's name was Luis, and the name Luichiny was created partially using his name (the correct pronunciation of the brandname is loo-che'-nee). So now you know.
Luichiny made headlines on Valentine's Day 2013 when actress Sutton Foster wore a pair of Luichiny shoes on the Late, Late Show that day. After sitting down to be interviewed by Craig Ferguson, Sutton flashed a heart-stamped sole to the admiring host and audience. You can catch a video of that interview below.
Meanwhile, what better way to stamp your mark on Valentine's Day 2014 than with a six inch no-nonsense boot with a two inch platform? Lovers everywhere be warned…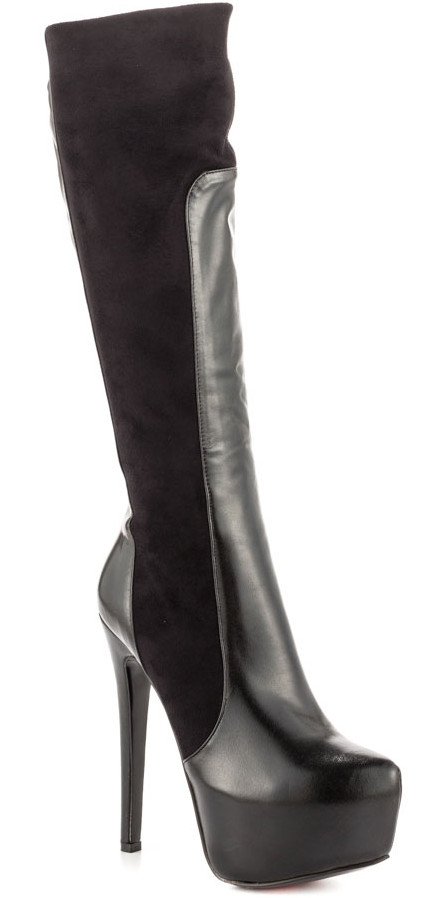 Craig Ferguson interviews Sutton Foster:
http://www.youtube.com/watch?v=g7LTZW8sA-s