Are disposable high heels the next big trend? Behold the $20 shoes!
We're teasing slightly when we talk about disposable high heels, but the availability of cheaper and cheaper stilettos is certainly a trend we've noticed over the last four or five years. While designer heels have skyrocketed in price during that time, an explosion of Chinese-manufactured shoes have begun to be aggressively marketed through internet retailers leading to highly competitive prices at the bottom end. It is now  quite possible to pick up a pair of feature heels for $10 to $20. It might be a worrying comment on the disposability of material things in today's society, but the one-wear costume heels are now a reality. In fact, the costume these days can cost more than the shoes!
Lucky21 is one retailer carrying a range of seriously budget shoes, including the $20 silver spiked and studded stiletto heels pictured above
. The catch is that these bargains tend to sell out quickly meaning a limited range of sizes are available (currently you can pick up a pair of these white crochet overlay platforms for only $20, provided you're a size 6.5 or 8).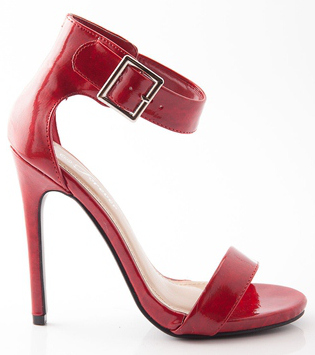 These on-trend red stiletto sandals are even cheaper at only $13 a pair via Lucky21
. There's also better news on the sizing: at the time of writing most common sizes are still available (sadly with the exception of size 7). Oh yeah, and Lucky21 offer a $5 discount off purchases in some circumstances too, making these only $8 a pair. Check the links for full details.