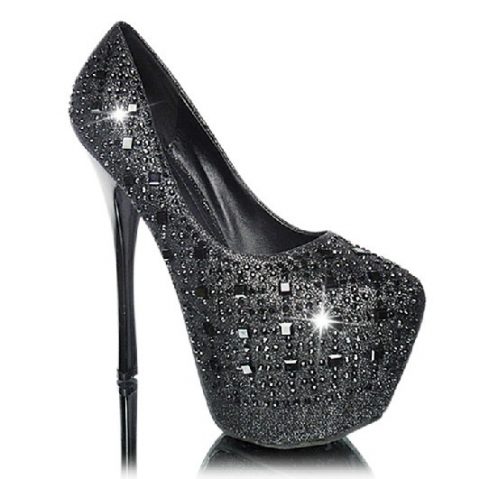 The continued rise of cheap Chinese high heel manufacturers is better news for some consumers than others. While the huge number of heels now made in China has driven down costs across the board (in some cases to the point where stilettos could be considered genuinely disposable commodities) it seems that, in at least the case of one large online trader, the shoes produced are skewed to Chinese foot sizes. Which means small.
The hot bling high heels pictured above are an absolute bargain: they retail through established website Stylish Plus for only $59.95 (that's 80% off!). But there's a catch Cinderella: the shoes are only available in sizes US 3 to US 7. While a US 7 used to be a very common foot size even a decade or so ago (and an 8 in the years after that), women's shoe sizes have continued to increase over recent years and these days the average American woman has a shoe size that is somewhere between an 8.5 and a 9.
All of this is a little cruel, for as the polarising book A Billion Wicked Thoughts: What the Internet Tells Us About Sexual Relationships
 recently revealed, men are evolutionarily wired to look for small feet in a sexual partner! Still, not much you can do about it if you don't fit the bill and big peds can be sexy too dammit.
For those women who do have small feet (or smallish feet), these blinged-up high heels are an absolute steal: they're available in black and silver for $59.95 via Stylish Plus.