Angelo Ruggeri, the creative director of Sergio Rossi since 2012, has come up with an early nomination for sexy heel of the year with an Italian-made caged evening sandal called Puzzle. This strappy new 4.25 inch gem from the Spring / Sumer 2014 collection has a central spider-web leather upper, suggesting the wearer weaves a web of seduction to lure unsuspecting prey back to her lair. Well, that's what the marketing information says anyway.
In dark brown leather (styled "ebano" or ebony with tortoise shell detail) the high heeled evening sandals fasten with a trendy double ankle strap with buckled closures. They are retailing fast from Zappos for $955
.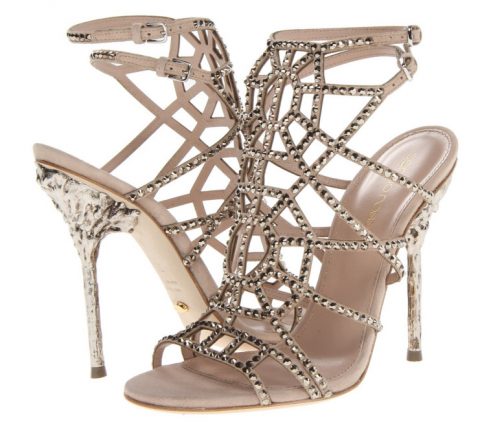 If you love the look but not the colour, the shoes are also available in a blinged-out "new nude" colour with exquisite crystal accents and a sculpted metallic stiletto heel. Although only just introduced they're selling fast too, and are available in limited sizes only via Zappos for $1,655
.
See a video of the launch of the Sergio Rossi Spring Summer 2014 collection below.