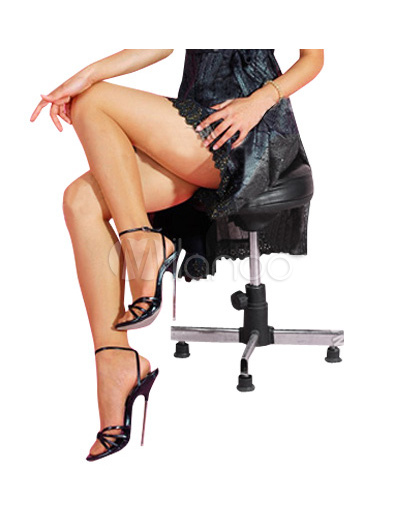 If totally impractical, 6 inch bedroom heels are your thing, then we've found a popular model at established website Milanoo. The heels have shiny, black patent leather straps with a feature knot over the top and attach with a delicate ankle strap.
Their standout feature though is a 6 1/4 inch firm steel heel – a genuinely sexy stiletto. Right now, these sandals are available on internet retailer Milanoo for $98.99.
While we doubt that these are the most popular six inch heels in the world (surely the winner of that contest must go to a shoe made by industry-leaders Pleaser), they're definitely very popular.
They're consistently in the top 10 sexy sandals sold on Milanoo and at one point they were the #1 top selling sexy shoe on the site (beating 1,391 other pairs of sexy stilettos).
The other thing that could be said in their favour is the reviews: the shoes have an average 5/5 star rating on the website, with many favourable comments.
You can view and buy the sandals for $98.99 at Milanoo.