UPDATE, April 2016: This pump is no longer available and links have been removed. Back in April 2014, this shoe retailed in UK sizes 3-8 (that's US sizes 5-10) for £60 (around US$100).
Established UK online retailer Office has cracked the delicate balance that is required of a work pump. The label has produced a high heel that is professional and sensible looking enough for work, but cut in a way that isn't boring. Here's a heel that mercifully doesn't scream "I started wearing these shoes just after college and my style hasn't changed now that I'm an old lady." This new shoe is called Jilly from Office.
The stand-out feature of Jilly is the cut-out side and asymmetrical vamp. The shoe is otherwise a standard black pump, or "court heel" as the English might say. The upper, lining and sock are all made of leather and the heel height is officially 10.3 cm (about 4 inches).
Office delivers free to most of the UK mainland and some other limited destinations but there is a shipping charge for other locations unfortunately. It is seemingly a flat fee per order (the site has details, which depend on location) so if you're going to be paying shipping our advice is not to stop at one item! Fortunately this shoe design is also available in camel snake for the same price, so perhaps doubling up on these workplace-friendly leather pumps is the answer.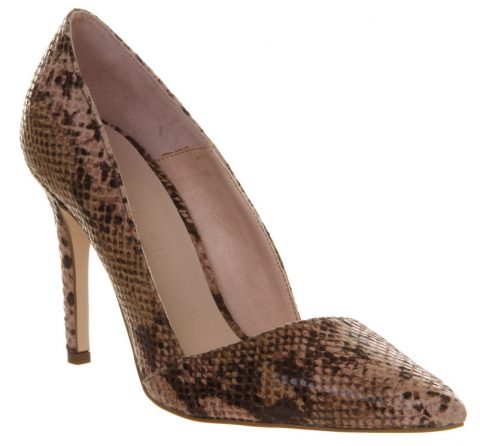 For another pair of work heels we found recently that aren't boring, see our article on the Kardashian Kollection's black pumps (yes, you read that right – we found something useful and stylish from the Kardashians).