Dawn Richard launches capsule shoe collection with Lust for Life

Dawn Richard has launched a three-piece capsule high heel collection with the Lust for Life label, but if you want a pair you'll need to get in fast.
Richard says her favourite piece of the three is the thigh high leather boot, which has a unique gold panel trim and 5 inch heel (available in limited sizes from heels.com for $269.99
). In a video interview that you can view in full below, the singer / songwriter explained:
I think the thigh high is my favourite… It's really really sexy and for me – I'm short – and so everything aligns and everything is long in length for me on stage and I love thigh highs they create a reality of me being longer than what I really am.

Thigh highs are my girls…I bake with them, I cook with them, I go to Walmart in them.
The Dawn Richard Lust for Life collaboration not only are designed for clubbing and looking fabulous, but they are also "performance ready" shoes. About this aspect, Richard said:
I wanted to make shoes that were comfortable enough not only to walk down the street with but also to perform in for two hours on stage.

Because for me heels are everything and on stage they pretty much amplify what my performance incorporates and what it actually is.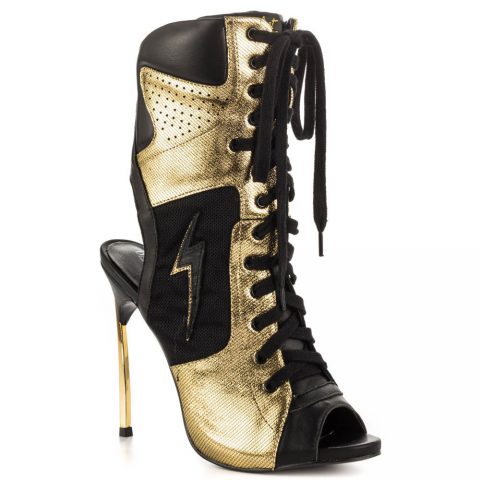 The capsule collection also includes a sneaker heel pictured above (heels.com, $279.99
and the 5 inch thin stiletto pump shown below(heels.com, $169.99
). Both are selling very fast.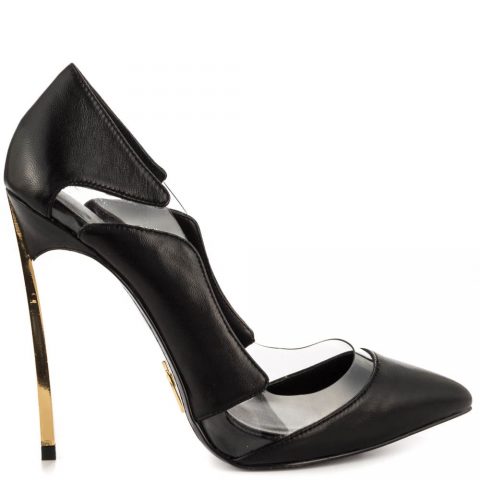 The colours of the inaugural Dawn Richard Lust for Life collection are black and gold. Richard explained that her first two solo albums were called GoldenHeart and BlackHeart: "so what I've done is associate the colours and the brand with the colours for the shoes."
There's also another reason. Richard was born in New Orleans, where the local football team plays in black and gold. "I bleed black and gold," she laughed, "…so it was only right to do that as the starting point because I wanted to stay close to my roots."
As for Lust for Life, Richard says it is a brand she says she has "been stalking… for a very long time now… I am really excited to finally have a shoe line with them."
You can shop the Dawn Richard Lust for Life capsule collection and other Lust for Life shoes at heels.com.