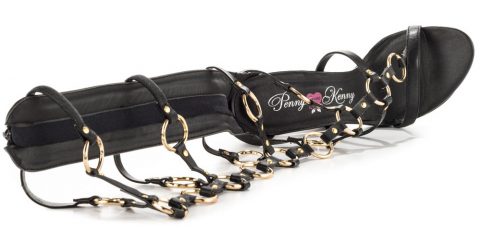 Its website is barely existent – launched in 2011, it still promises to go live in 2012 – social media channels appear defunct, but the Penny Loves Kenny brand seems to be doing quite nicely thanks very much.
With over 200 different pairs on heels.com – including these 5 inch gladiator sandals for $99.99
– the brand continues to let its products do the talking.
What we do know is that the brand was started by a couple – no prizes for guessing that they are the titular Penny and Kenny – and promises to produce shoes for "the ultra-feminine girl next door."
The brand says that its shoes are sexy, edgy and playful all wrapped into one. That's certainly true of the gladiator sandals: they feature harness caged straps, metallic rings a black man-made upper. A half inch platform offsets the 5 inch heel.
You can find Penny Loves Kenny's Merino gladiator sandals at heels.com for $99.99
.