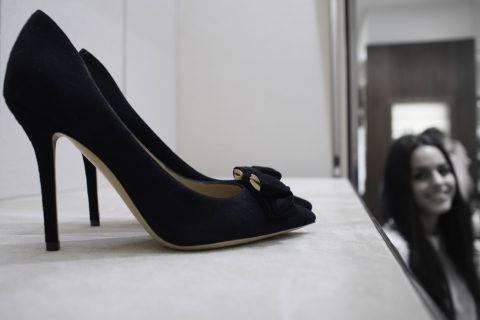 Taking his cue from Roger Vivier, Salvatore Ferragamo took the stiletto to the next level. This Italian shoemaker immigrated to Boston with his family in 1914 where he worked in a boot factory.
Not long after that he moved to California with his brothers, where he opened a shoe repair shop near Hollywood that eventually found him designing his own footwear. From there he designed shoes for Hollywood movie sets before returning to Italy in 1927.
Ferragamo designed shoes with a painstaking detail that became his hallmark. His unique designs weathered the world financial crisis in 1933 as his factory grew to produce 400 pairs of handcrafted shoes each day.
After the Second World War, Ferragamo's shoes came to be known around the world as a symbol of Italy's return to life and craftsmanship.
In 1955, he patented a strong support system for the stiletto that influenced the way the slim heel was made, and is still used today. His special support system was designed based upon his studies of human anatomy. He stated:
"I discovered that the weight of the bodies when we are standing erect drops straight down on the arch of the foot. I constructed my revolutionary lasts, which supported the arch, make the foot act like an inverted pendulum."
These same comfort principals that Ferragamo based his designs upon are referred to by modern shoe designers.
In 1978, Ferragamo created his most famous shoe. the Vara. Vara has a grosgrain bow and metallic disk on the toe of the pump. Over the years, the bow has become a look that Ferragamo has now extended to a variety of heel heights and even flats.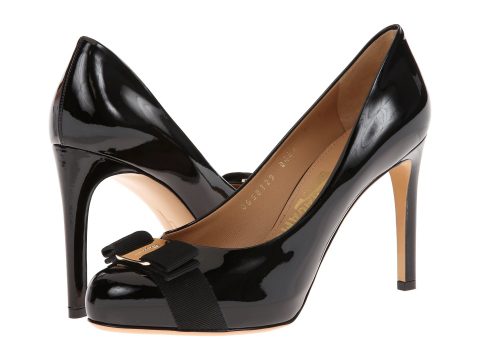 If you'd like to see more of these exquisite shoes, you can shop Ferragamo heels through our Zappos affiliate link right here.
—
Image credit: "Why Are Women Crazy For Shoes? | 130613" (CC BY-SA 2.0) by jikatu