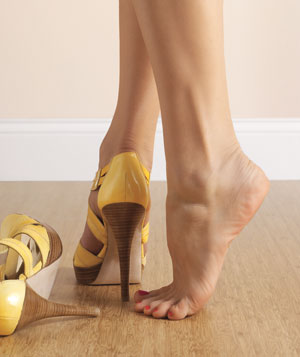 There's been a good bit of press lately about the potential health risks of wearing high heels. Yet despite these warnings, most of us still choose to wear the shoes we love. In fact, according to some reports the sales of super high heels from Kurt Geiger have quadruples in the last year. Women (and some men) are clearly willing to suffer a little to be incredibly chic. Still, we recommend being a savvy-heel wearer and do things like carrying a pair of flats in your bag or taking days off from your heels.
And there are more things you can do to take care of your feet. New York City podiatric surgeon Jacqueline Sutera has some exercise tips that will keep your feet in shape. They include things like toe grips and calf stretches that culminates in rolling cold golf balls around on your feet. Read more here.
Fitness guru David Higgins might not wear heels himself, but his expertise has led him to also draft some tips on how to give your paws a little relief throughout the day. His tips include things like thigh stretches that might seem more suited to your running workout, but that actually make sense when you think about how high heels affect your entire body. Read his advice here.
Throughout history people across the globe have done all sorts of things with their bodies and wardrobes in the name of beauty. And, yes, sometimes these things are painful. Lucky for us in modernity, high heels are nearly as incapacitating as foot binding, for example. Still, it's smart to look after your health and make sure that you can look and be fabulous for years to come.