Finding the best pair of vegan heels to complement your party-perfect holiday outfit can be difficult, but British-based vegan shoe supplier Beyond Skin wants to help you. Their website, www.beyondskin.co.uk, is currently holding a sale with 30% off all Christmas party shoes. The site is also selling some dressy boots that are perfect for the winter season, and while not on sale, they would still make a worthy addition to your closet.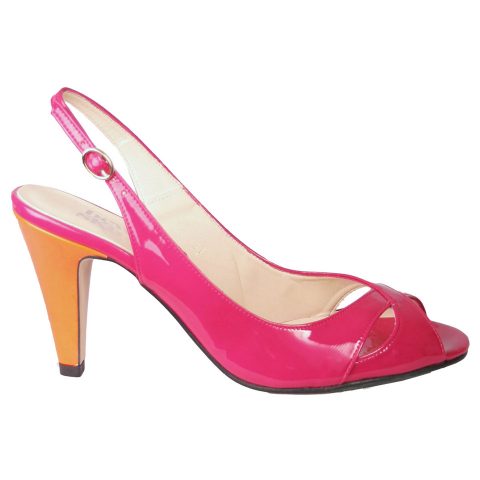 First is the Belle, which is among the holiday heels collection. The body of the sandal is faux patent leather in shocking pink, and the 9 centimetre heel is faux patent leather in orange. The thin ankle strap has a small gold buckle. This shoe will be a noticeable and welcome splash of colour among the more traditional holiday reds and greens, and it can also be worn into spring and summer thanks to its bright colours.
The Hattie shoe is a sassy lace-up bootie with a four-inch heel and rounded toe. Vegan leather covers the toe area and heel, and you have a choice of three fabrics for the rest of the shoe: black and grey check; black recycled suede; or black and turquoise check.
Finally, the Roxanne is a fun, 80s-inspired ankle boot available in red or black faux suede. The 10.5 centimetre heel is in the same material as the body of the shoe, which offers a more streamlined look than a boot with a heel in a different colour than the shoe. The boot fastens with Velcro which means no zippers, snaps, or laces to fuss with.
If you're planning a wedding for the spring or summer, be sure to check out the site's wedding shoe section as all pairs are currently on sale as well.
Buying from Beyond Skin is not only an animal-friendly choice, it is also an environmentally-aware one. All materials used in Beyond Skin's footwear are synthetic materials that have been chosen for having minimal environmental impact.
Your purchase from Beyond Skin also helps the manufacturers of the shoes, since each pair is handmade in Spain. The website offers worldwide delivery, and the brand has a presence in stores around the world, so check to see if one is near you.