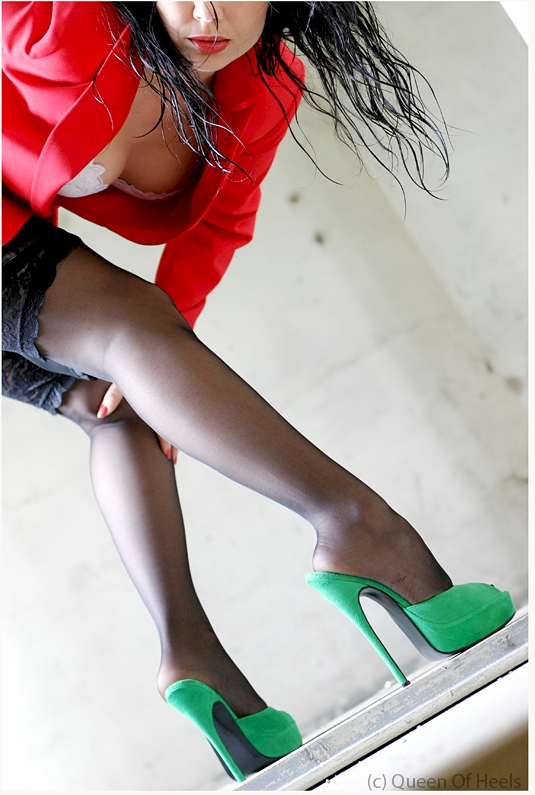 Gina – Queen of Heels is a high heel collector, model and enthusiast. She recently spoke with us about her love of high heels and more.
Highheelsdaily.com: Welcome to highheelsdaily.com and thanks for sharing your picture with us. Do you mind telling us a little about yourself?
Gina: I´m a 35 year old shoe collector. Right now I own more than 800 pairs. I buy shoes from designer brands and also collect original vintage high heels from famous brands and styles.
Highheelsdaily.com: What does being the "Queen of Heels" involve?
Gina: In 2003 I started taking and publishing photos of me wearing my shoes to finance my expensive hobby.
In 2006, due to my many connections to suppliers, I opened a shoe store with my parents in law. I can now create my own designs and of course I benefit from getting shoes cheaper.
Now in 2011 I can look back at some exciting experiences. I have appeared in magazines and newspapers and was filmed for a German TV show. I even had to register my name as trademark because many clones tried to copy me!
Highheelsdaily.com: What is the story behind this photograph?
Gina: The photo was shot in Munich, Germany in 2006 in an old facility building. The story behind the unusual colour combination is that it was an election day and so we used the colours of the biggest parties just for fun. The photographer was Marc Sigrist.
Highheelsdaily.com: Could you tell us a little about these shoes?
Gina:  The shoes may appear to be nothing special on first view, but I think the green suede looks stunning. Way before all designers were making heels with small platforms, I used to order them from my manufacturers.
These green mules are from 2001 and were custom made from my inputs. I think I used a shoe from the late 70s or early 80s for the upper. I wanted a medium platform: not a 2 inch or a 1 inch one, but something in between.
I also ordered the same shoe in blue suede but with a higher platform. This was a touch too much but they are a fantastic pair of shoes too.
Highheelsdaily.com: Thanks for your time. Where can we visit you on the internet?
Gina: Here are the links to my website and shoe store. Thank you!