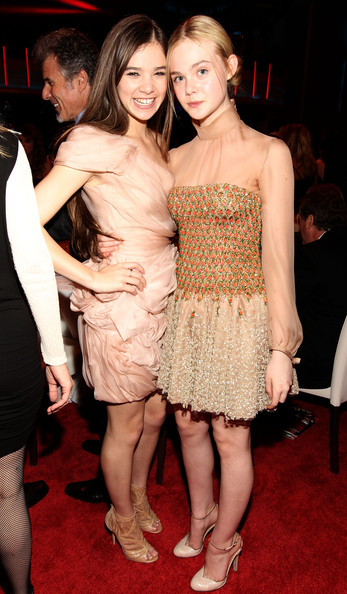 All of us here obviously love high heels. But as with, red wine or conga drums or bunjee jumping, there's a time and a place for heels. You may believe in being glamourous even in the most casual situations, but at what age is that glamour appropriate?
These days young female movie stars that haven't even hit their teens have wardrobes to rival women three times their age. In the picture here are Hailee Steinfeld (left) and Elle Fanning (right) at the 2011 Critic's Choice Awards wearing designer cocktail dresses and high heels. Steinfeld only recently turned 14 and Fanning is still just 12 years old. There's no doubt the girls look stunning in their ensembles, but they do seem a bit mature for the young ladies – especially Fanning. And this look isn't unusal for either of them.
Of course, these aren't your average 14 and 12-year-olds and I'm sure they don't wear 4-inch pumps to school (or to see their tutors). Still, their place in the limelight might suggest that their youth should be even more closely guarded. In addition, these girls are defacto role models for their young fans. It's not a clear cut case and opinions on the matter vary.
Stay tuned for the High Heels Daily exclusive designer interview series, where we'll be asking some of the hottest new shoe designers what they think of this topic.
Tell us what you think: Visit the Highheelsdaily.com Facebook page and let us know: Is there an age that's right for girls to start wearing heels? Should the height be restricted until a certain age?