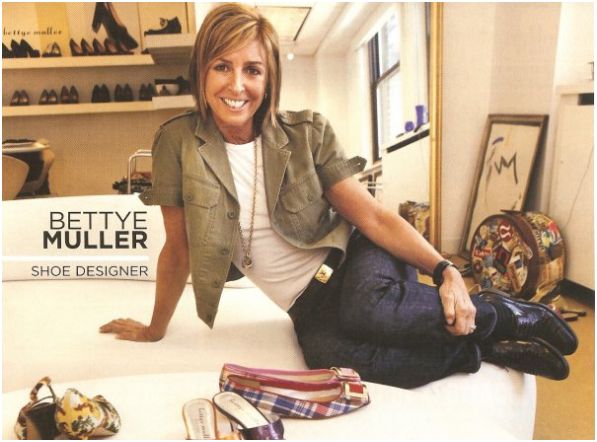 For part 2 of our designer feature series we are delighted to present a quick interview with designer Bettye Muller. Unlike some of the other talent in the series, Muller is a more established designer so we are thrilled to have the opportunity to chat with her.
"My shoes are like Hitchcock Blondes. Like Kim Novak and Grace Kelly, they have a distinct look that is mysterious and beautiful. Each one tells a story."
Below: Treat suede pumps from Bettye Muller Spring 2011
HHD: I love this comparison to your shoes! Your aesthetic is so elegant and understated, yet leaves a lasting impression – just like Hitchcock's leading ladies. Are you inspired by film in general? What are some of your current faves?
Bettye Muller: I Loved the "Black Swan" and "The Kings Speech"
HHD: You have quite a diverse background. You've been an ice skater, an actress, and you've done graphic design. Do you have even more ambitions outside of footwear design?
Bettye Muller: Interior Design. There are lots of cross-overs between shoe design and interior design: lots of attention to detail, use of color pallets, fabric choices etc. I adore fabrics – maybe I could even do fabric design?
Below: Caprice printed wedges from Bettye Muller Spring 2011
HHD: At what age is it appropriate for a girl to start wearing heels?
Bettye Muller: It depends on the girl. Some very young actresses can pull off anything and it looks age appropriate. I just saw a three year old in a pair of kitten heels the other day; it's a sign of the times.
Below: Sage Jeans espadrilles from Bettye Muller Spring 2011
HHD: Who would you most love to see wearing your shoes?
Bettye Muller: Definitely Alexa Chung; she has such great style. Or Jacquetta Wheeler who is a top, top model with great style also.
Find out more about Bettye Muller shoes at www.BettyeMuller.com or follow her on Facebook or Twitter. Also keep up with the designer at her newbettyemullerblog.com.