Fergie is one of our all-time favourites and she's just revealed how and why she'll be standing tall this summer. Speaking to the Daily Mail ahead of the Black Eyed Peas' Massive Stadium Tour next month the superstar singer, songwriter and fashion designer commented:
'Platforms are my favourite heels for the summer because they give you a long leg. I like to wear tall heels so when my husband, [Transformers actor, Josh Duhamel], kisses me, I don't have to stand on my tiptoes.'
It seems wrong to disagree, and the Bingo wedges above should do the trick. New from Fergie's own collection, they have a round, open toe-caged strap detail and 5 3/8 inch wedge heel. The heels come in a choice of  black, taupe and denim leather and are available now for $109.99.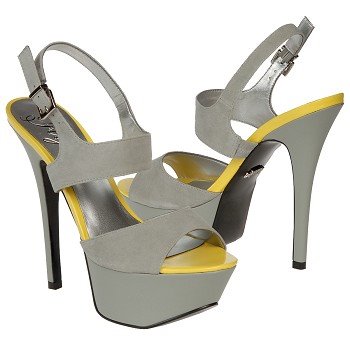 Failing that, what man could resist a woman in Fergie's beautiful Bold slingbacks (pictured here in stone)? They're certainly bold – and sassy – and for $99.99 should provide just the platform to achieve optimum kissing height. With no tiptoes required.