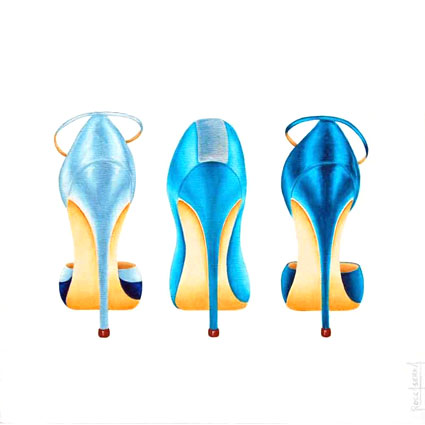 The Usual Suspects is a series of paintings of decadent high heels inspired by cocktails. The series includes such delights as Day Dream (above), with the heel of the shoe giving the allure of a champagne flute. Day Dream is inspired by ingredients of champagne, curaçao, gin, vermouth, white grape juice.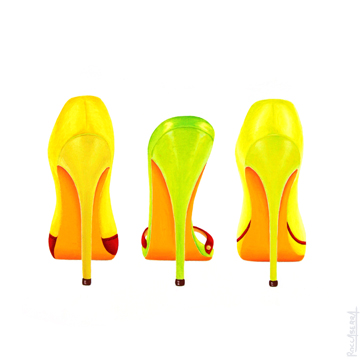 Furthermore, who could resist a margarita – inspired by ingredients of Tequila, triple sec and lime juice?
The artist of the Usual Suspects is Corsica-born Estelle Rocca-Serra, a self-taught painter. Estelle worked in genetic research while she was living in Paris before moving to London in 2000 to pursue a career in art and design, and has since devoted herself full time to art. She lives and works in London.
Estelle's technique is partly inspired by the neo-impressionists, focusing on the visual interactions of pigments, creating a distinct luminous effect through colour juxtaposition.
Estelle says her work is composed of collections of cheerful, bright, stylized oil paintings, using pure colours and elegant lines and that through witty narrative and a celebration of life's little frivolities, she depicts female sensuality and attitudes.
Estelle's paintings are held in private collections including Los Angeles, Monaco, Milan, Paris, London and Sao Paulo, and are part of the permanent art collection of St Georges Hospital in London.
A selection of other paintings in the Usual Suspects series is available on Estelle's website.