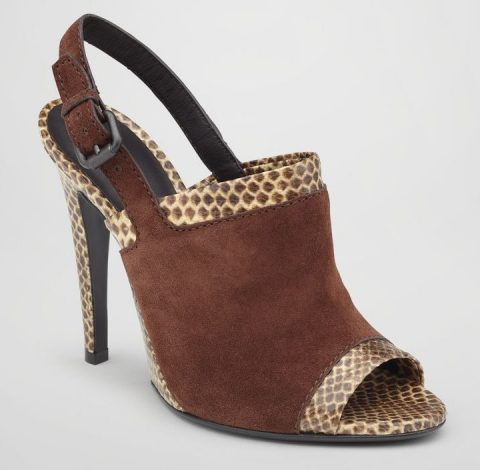 (UPDATE April 2016: the heels referred to in this article are no longer available and links have been removed.)
Easter means many things but to a lot of people those things include chocolate! For that reason we're going to take a look at two high-end chocolate colored shoes today in a post that combines two of our favorite things: chocolate and high heels.
First up is the exquisite Antique Ayers Sandal from  Bottega Veneta in cioccolato suede. This immaculately detailed slingback is trimmed with ayers snakeskin, and features a 4.3″ high heel. Also available in violet suede it sells for $940 from  Bottega Veneta and is not a pair of shoes you would wear in the rain!
Our second helping of chocolate for the day comes in the form of Gucci's multi-strap nappa leather sandals. With straps of shimmering gold and chocolate brown, this high heel is sure to make for a very special long weekend. The sandals have a 5″ heel with a 0.5″ platform and are available for £583.33 from net-a-porter.
Happy Easter from highheelsdaily.com.