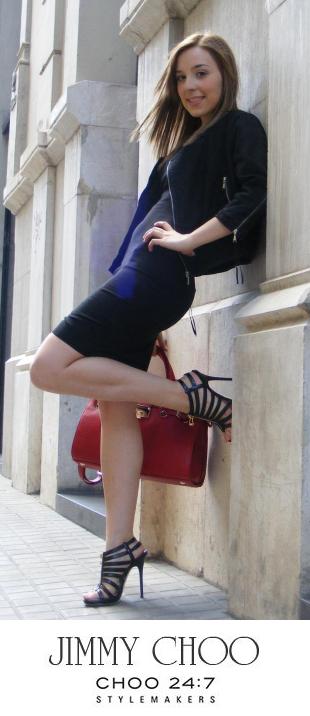 Iconic brand Jimmy Choo has launched a new street style website where fans and photographers can upload pictures of themselves wearing Choo shoes and accessories. According to Jimmy Choo, the concept for the Choo 24:7 Stylemakers site is that it will celebrate street style with an image gallery showcasing fans wearing Jimmy Choo across international time zones, day to evening, 24:7.
The site at choo247.com appears to be currently populated with images from around the world that the brand itself has taken (like the one featured here) but users are able to upload pictures themselves and invited to do so.
There's a strong incentive for you to upload as well – if you post your photograph by 6 June 2012 you go in the draw to win a Choo 24:7 wardrobe consisting of 6 pairs of Choos from the 24:7 collection and a handbag. Terms and conditions are on the site.
Rules for uploading include the following:
The photograph has been taken by you and/or belongs to you;
You have obtained the permission of the person/s in the photograph to upload the photograph onto a public forum;
Your photograph is of a high quality (i.e. no grainy or blurred photographs); and
Your photograph focuses on Choo 24:7 products.
Full terms and conditions are available at Choo 24:7 Stylemakers.
As might be expected, the site makes full use of social media. There's an Instagram "ticker" that displays images tagged #choo247, and visitors to the site can like and share images via Facebook, Twitter and Pinterest. And of course there's a marketing angle too – visitors can click from photographs to go straight to the store to buy the shoes featured or similar looks.