With so many sexy designer high heel shoes on the market right now, the question of which is the most sexy must come down a little to personal taste. However, some features are not all that negotiable. First of all, a truly sexy shoe should have an elegant, well-balanced stiletto heel. Wedges and chunky heels are really fun but not as sexy as a classical spike heel.
Secondly,  it probably pays to not get too close to the stripper shoe look: a hint of the bordello is fine, but 6 inch mules and clear heels are probably best left to do their sexy work in the privacy of the bedroom. Designer shoes are made to be worn for a much wider audience. In the same way, a little platform can be sexy on a designer shoe but if the platform is so big it looks like you are balancing on a couple of telephone books then those shoes are probably best left for dancers who have poles to cling on to.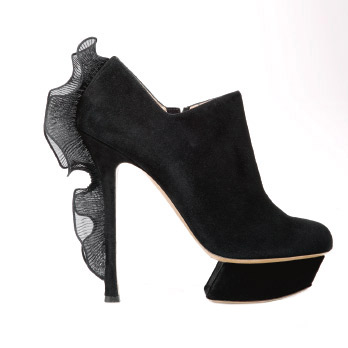 Finally, a truly sexy high heel should ooze style: it should be contemporary, imaginative and well cut so that onloookers applaud and the lucky lady wearing a pair feels like a celebrity whenever she steps into them.
That's what we think, but what do you think are the sexiest shoes of 2012? Retailer Saks Fifth Avenue and Footwear News have teamed up to run an awesome competition in which you can vote for the pair of heels you think are the sexiest going around this year. The 25 pairs of heels in the competition include those illustrating this article and more. All are available at Saks Fifth Avenue. Best of all, voters enter to win a $10,000 Saks Fifth Avenue shopping spree.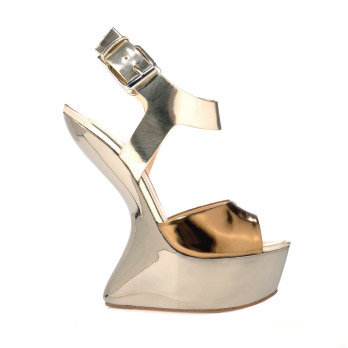 And our tip to win? It's the art-deco inspired Tempest metallic sandals pictured at the top of this article. Available from Saks Fifth Avenue, they're by Jimmy Choo.
Also pictured: