History and craftsmanship continue to define Italian brand Sergio Rossi, with both being well evident in the label's fall / winter 2012 /13 collection. The Genevieve studded pump exemplifies these characteristics, and is a true highlight of the collection.
Somewhat confusingly, a number of pumps in the collection share the name "Genevieve." The yellow version you see here is made of 100% shad skin (for your daily dose of trivia, shad is a type of fish mainly found in freshwater). The pump is prominently studded on its vamp, sides and heel, in keeping with a trend we are going to see a lot more of this season.  The laminated effect and scale details are complemented by a 4.1 inch heel. This Genevieve is available from Sergio Rossi for $1,335.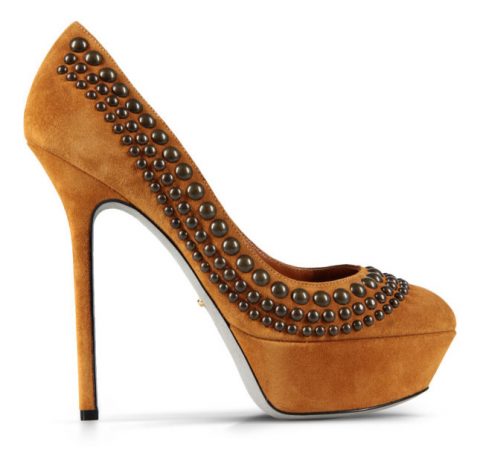 A cheaper option is this 5.5 inch orange suede Genevieve, with 1.4 inch platform.  100% leather, and with fewer studs, the platform version sells for $850.
The chunky, black platform version of the Genevieve retails for $970. It is 100% calf-skin leather and has a 3.3 inch heel with 1.2 inch platform.
 Finally, the style also comes in a 3.5 inch classic black pump. This 100% nappa leather pump would be the perfect work shoe, but it come with a price tag that befits the craftsmanship on show. The pump retails from Sergio Rossi for $870.
All the Genevieves family are part of the Ancient Glamour subset of the Sergio Rossi fall / winter 2012 /13 collection. The collection itself was launched in April 2012 during Milan Fashion week. See FashionTV's video of the launch below: