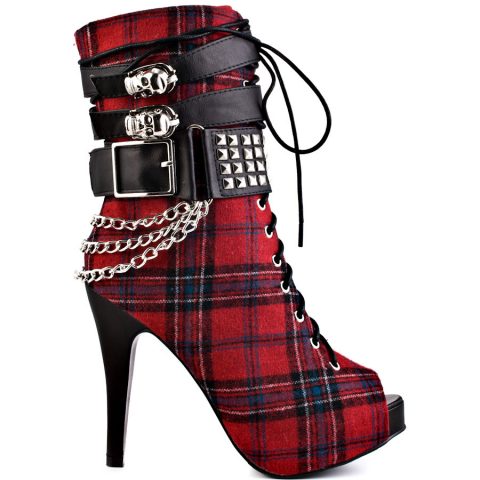 The origins of Halloween are a complicated and contentious topic, but one thing is generally agreed: the holiday really took off in North America with the mass wave of immigration from Ireland and Scotland in the 19th century. One tradition that the canny Scots brought with them was called "guising" – children disguising themselves in costumes and going door to door for treats and money, much in the way children now go "trick or treating." Variations on the practice were also in force in England and Ireland at the time.
In Scotland, children would go guising carrying lanterns which they had made from hollowed out turnips. However, when the custom came to America, they turned instead to the native pumpkin which is bigger and easier to carve.
In a nod to the Scottish origins of Halloween, today we feature a Scottish-flavored peep-toe bootie. The boot has a tartan-patterned upper, tartan being the famous pattern so long associated with Scotland.The crissed-crossed laces add to a look that seems to be one part army and one part marching girl, and the buckles, chains and studs around the ankle give a tough edge that is balanced by the cute peep-toe.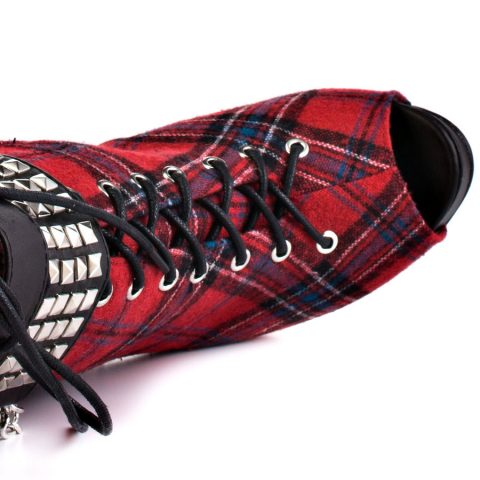 This platform bootie has a 5 inch heel with a 1 inch platform. It's by Abbey Dawn and is available in whole sizes only for $89.99 from heels.com.