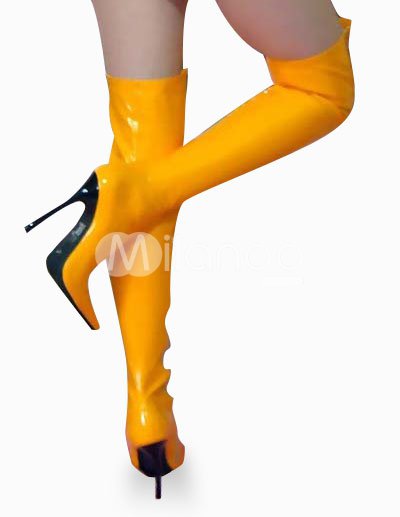 It's hard not to think tarty when you think over over-the-knee boots (not that looking like a tart is a bad thing, if that's what you're trying to do). But today I've hunted down both ends of the spectrum when it comes to over-the-knee boots of the yellow or orange hue. The pair above are the tarty option and you could just about see your face in the reflection of the shiny man-made material if that's what you wanted to do.
With a 4.7 inch sharp stiletto heel these shoes would be manageable for a night on the town, but they're probably just as likely to belong in the dress-up box. The tarty option is also the cheap one: these over-the-knee boots are available from Milanoo.com for $65.99.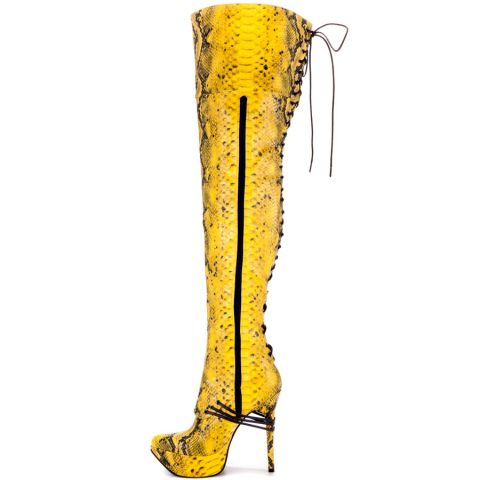 The second pair are the more conservative and refined option. They come from Michael Antonio Studio, which is the self-proclaimed "big sister" to the Michael Antonio brand. The Studio brand promises trendsetting and unique high heels, and these yellow boots with black snakeprint upper certainly deliver that.
The laces on these boots criss-cross right down the back of the boot and around the 5 inch heel. Walking is made easier by a 5 inch platform. With a man-made upper, these are none other than the Hyder – Yellow
boots. They retail from heels.com for $179.99.