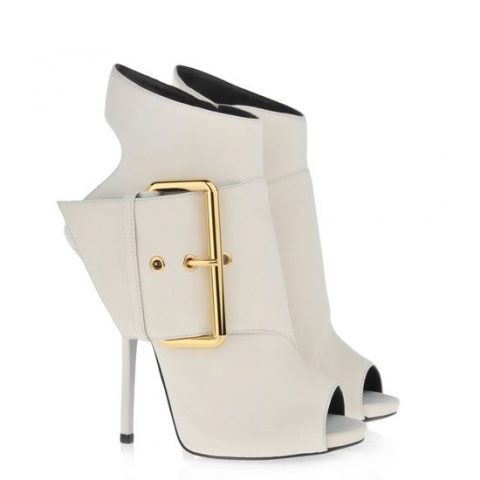 Just when we thought we were tired of the peep-toe bootie trend, the masterful Giuseppe Zanotti has come up with something completely new and fresh that causes us to just pause and admire. Because it is very difficult not to love these sky-high white calfskin high heels, which are new arrivals at Zanotti.
Technically these booties are described as a slingback heel, but the way the heel has been designed means they also give a knowing nod and a wink to the cut-out shoe and bootie trend of recent years.
The buckle feature is another trend that it is difficult to miss being featured on these fabulous booties. Here is it enormous in height but not too thick or overpowering for the delicate white of the shoe.
This high heel has an inner zip closure and leather sole, and is available now from Giuseppe Zanotti for $1,250. Wer're also tipping that you can expect it to come to a celebrity near you very soon!