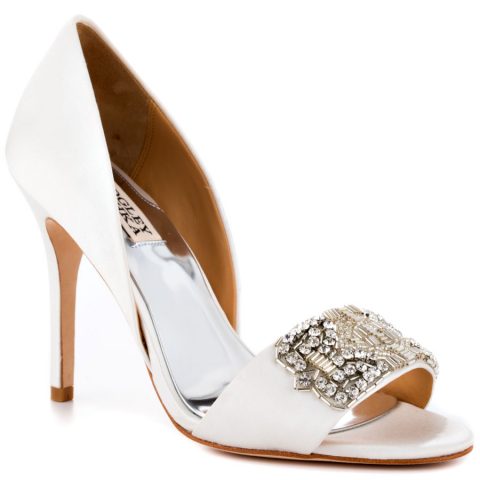 These Badgley Mischka d'Orsay heels may not be exclusively targeted at the lucrative wedding shoe market, but in our opinion they're pretty much perfect for the bride-to-be. If you're on the hunt for some footwear for your perfect day then here are our ten reasons why these high heels tick a lot of the wedding shoe boxes.
1. They're white. We love the trend towards colored wedding shoes in all sorts of bright and funky hues, but the classic white or shade of white remains very popular.
2. They're satin. Do we need to say more? White satin wedding shoes are the heels of choice for many traditional weddings, and some not so traditional as well.
3. Simplicity.  There are no straps to go wrong or to itch or scratch or otherwise get in the way and cause you discomfort on such a special occasion. And the simple look is definitely on trend for sandals this year, so you'll be up with the latest fashion as well.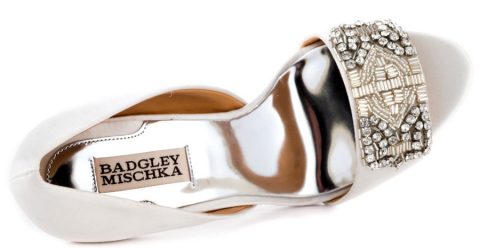 4. An open toe. There's a reason brides get manicures and pedicures, and we don't think it's just for the wedding night once all the guests have gone home.
5. Comfort. A four inch heel with no platform strikes the perfect balance between fashion and practicality.
6. They're hot. The revealing d'Orsay cut showing off the arch of the foot is sexy, but not too sexy if you know what we mean. They're glamorous, fashionable and ageless – without being tarty.
7. Price. OK, at $234.99 these aren't the cheapest high heels going around but who wants to go cheap on their wedding day? But as wedding shoes go, that's not a bad price given you're getting a genuinely proper designer brand. For comparisons sake you'll find that many of the big name designers will charge two or three times this amount for one of their wedding shoes, so we don't think the price is too bad.
8. Features. The sparkling broach detail on the front of the shoe allows the bride to shine on her big day, without being too blingy.
9. They're new to heels.com. We like new. New is good.
10. They're from Badgley Mischka.  Over the past few years Badgley Mischka have really made a name for themselves as designers of wedding shoes. This latest offering just proves why.
Badgley Mischka's white satin Alessandra sandals are available from heels.com for $234.99.