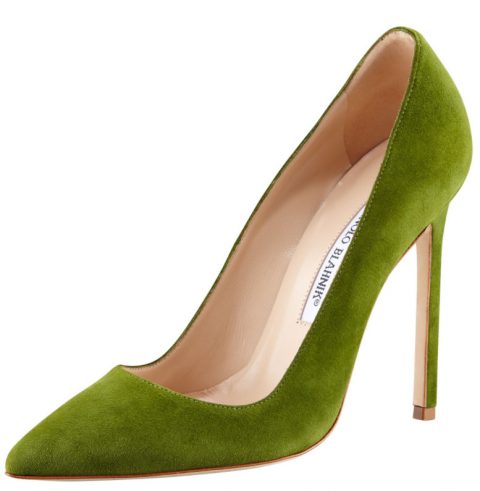 It's St Patrick's Day today, and time to celebrate by wearing 40 shades of green. You'll be pleased to hear that we've shown some restraint and picked out a just a single shade for today however. Voting for style and simplicity, our St Paddy's Day choice is these color-blocked BB pumps in green suede by Manolo Blahnik.
This is the Blahnik BB pump, one of the most famous shoes in the world. The shoe is named BB after Brigitte Bardot, and it is inspired by the fashions of the 1950s when Bardot's popularity as a sex symbol was at its peak.
The elegant BB court shoe was reintroduced by Blahnik in 2009, and has been selling like hotcakes ever since. In 2012 Blahnik said it was his best-selling shoe ever produced, and an absolute favorite all over the world: "totally timeless and very chic and flattering," he confessed.
Never one to rest on his laurels however, on Thursday Blahnik presented an exclusive collection of 50 variations on the BB, in collaboration with Bergdorf Goodman. The range includes such delights as the BB in holographic blue snakeskin (below, BG, $895). However, when pressed for his favorite variation by ELLE.com, Blahnik said "I love it in beautiful silk ottoman, in the brightest Spanish yellow."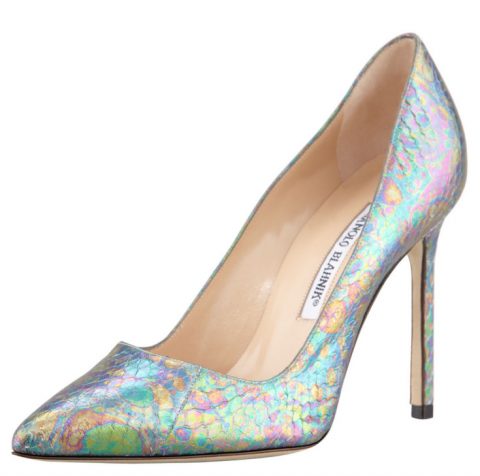 The BB has a 4 1/4″ covered heel and is made in Italy. If the green suede BB's take your fancy this St Patrick's Day, they're available from Bergdorf Goodman for $595.
And don't be afraid that your new green pumps will be a once-a-year shoe: as Manolo Blahnik himself has said, "the beauty of the BB is that it can be worn at any time, anywhere, in any color and any material.  It is so versatile!" Happy St Patrick's Day!