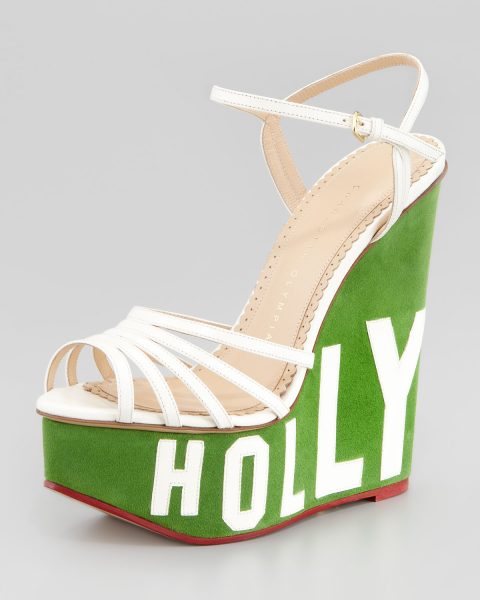 It's hard to imagine a more international shoe than these new Italian made, British designed and US-referencing wedges from Charlotte Olympia.
The six inch suede covered green wedge heel on these shoes from the label's pre-Fall 2014 Hollywoodland collection is pretty eye-catching by itself. But the highlight is the huge Hollywood sign spelt out on the side of these crazy shoes in big leather letters.
They're not as big as the iconic 350-foot long letters spelling Hollywood on Mount Lee in Los Angeles, but in their own way they're pretty hard to miss. You could probably even hike up hills in them as they have a chunky 2 inch front platform giving an effective heel height of a mere 4 inches.
As for the "Hollywoodland" name of the collection, it would seem that it's named after the original Hollywood sign which in fact really read "Hollywoodland." The sign was erected in 1923 as an enormous advertisement for a real estate development company of that name which went bust. The sign was given a facelift in 1949 and the last four letters were dropped.
If the Hollywood lettered wedge sandal appeals to you, then we recommend you hurry. It's part of the 2014 pre-fall collection but right now is online at Neiman Marcus only through Tuesday. The shoe retails for $1,195.