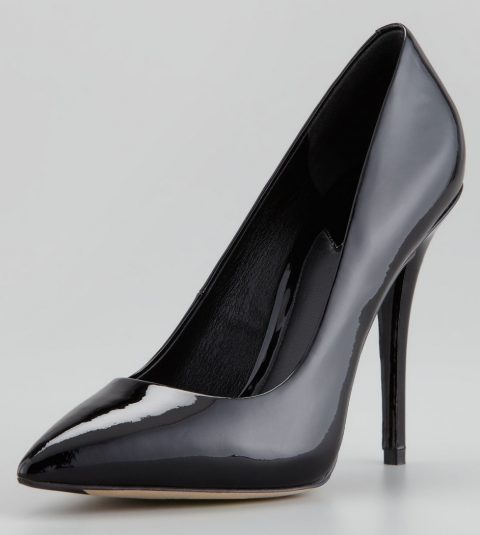 Neiman Marcus might be slightly overstating the position when describing  B Brian Atwood's new Desire pump as "the only pair you need," but these versatile heels might come close to being the universal shoe. The heel height is 4.5 inches according to Neiman Marcus, or 4.25 inches if you go by the designer's website.
Technically the heel on the Desire might make it a little too high for a work pump, but the heel is offset by a 0.5 inch platform meaning the total rise is somewhere between 3.75 and a perfect 4 inches. And, although we've technically ruled out platforms from our hunt for the perfect black work pump, the Desire's tiny front platform barely counts, right?
Outside the office these heels will go with just about anything (as a good black pump damn well should).
On the price-front, the shoe will cost US$350 (it's currently available on pre-order). It is new to the B Brian Atwood range, a secondary more affordable range that the designer launched as a "counterpart" to his main Brian Atwood line in 2011. It's not super-cheap but does fulfil Atwood's mission when starting "B" of giving a part of Brian Atwood to a larger audience.
B Brian Atwood's Desire pointed toe pump in black leather with hidden platform is available on pre-order now from Neiman Marcus or Brian Atwood for US$350. Expected shipping dates vary: Brian Atwood says late June 2013, and Neiman Marcus says it'll be before the start of August.