When I saw these new lace covered high heels, I realised instantly that we had to cover them on our site. The shoes are a great combination of two recent trends: lace covered uppers and metal high heels. And best of all they're only $40.99!
The metal stiletto dagger on these heels is a mean 4.7 inches, and the price means you can justify buying a pair even if you only wear them once or twice (we can't vouch for the durability of lace if it is crashed into a few walls on a night out). The shoes are attractive and I think are so cheap that you wouldn't have to get too much satisfaction from them to feel you got your moneys worth.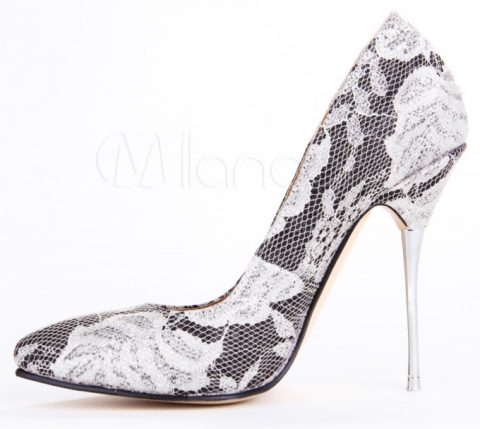 The sexy nature of the shoe really had me hooked. A pointed toe is so much hotter than a rounded toe in my opinion, and the lacework on this shoe seems to reference a pair of naughty fishnet stockings. At least it does to me. You can be your own judge.
You can pick up a pair of the lace-covered metal heel stilettos from Milanoo for $40.99, where they're just arrived in stock.