Italian Heels is a high heel label that we have sadly too often neglected on this site, but we'll remedy that today. The Italian-based manufacturer makes exactly what its name says it does, including these 4.4 inch black stiletto mules which are entirely handmade from quality leather and natural fabric by the brand's highly experienced shoemakers.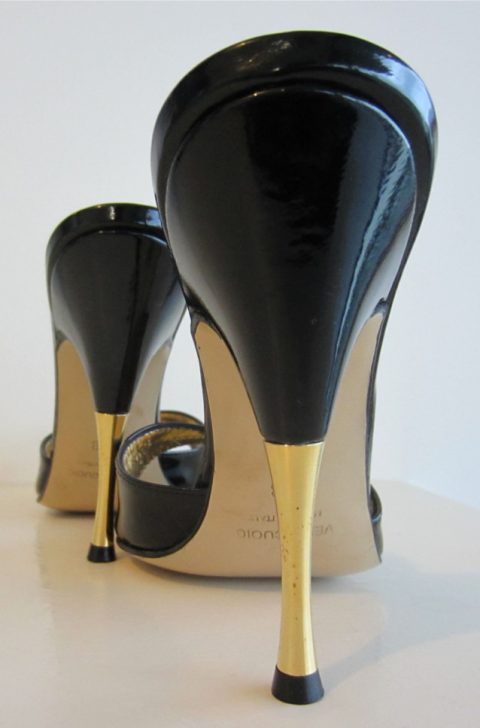 The hot shoes have a shiny black patent kidskin leather upper, which is minimalist to say the least. The 4.4 inch (110mm) gold metal spiked stiletto heel is a manageable height but more than high enough to  qualify the shoe as a truly sexy high heel.
Perhaps the best feature of all is the striking gold opalized lining on the mules. Not immediately obvious when the wearer is standing still, the lining flashes seductively as she walks – or as these stilettos dangle absentmindedly off her toes when taking a deserved break from the dance floor. They're a solid gold shoe tease either way but with a classy patent leather touch that the fashion conscious young woman demands.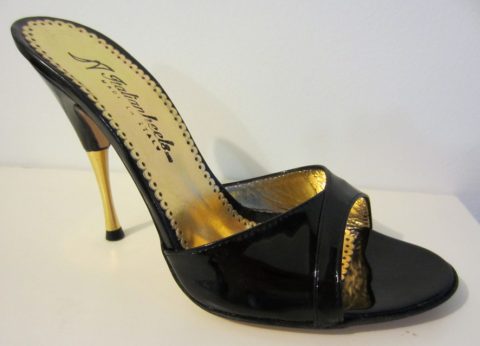 Italian heels' black stiletto mules are available direct from the manufacturer's website for around USD$110 (a currency converter is available on the site).