Artist Taylor Reeve has described herself as a "crazy blondie from Southern California" but she's one hell of a rising shoe-designing talent. Taylor's new range (which is currently available on pre-order from heels.com) showcases the artistic talents that Taylor says she knew she was blessed with from second grade.
Each pair of high heels has a striking piece of sole art, for which the range is known. In the case of this purple "Blondie" pump (surely named after the designer's self-description) the artwork is of an all-American, stars and stripes wearing, tattooed blondie. (The gold and purple heel is available for pre-order for $159.99.) The resemblance with the designer (see below) is no co-incidence.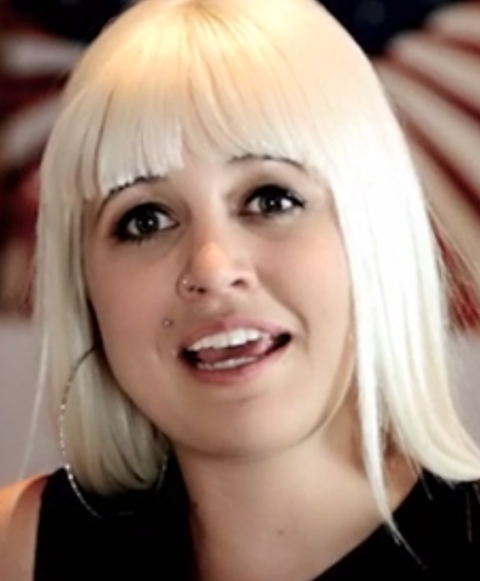 Taylor Reeve may be relatively young but designer has well and truly done her apprenticeship before branching out by working at the likes of Quicksilver, Bell Helmets, Dragon Alliance, and Skullcandy. Only then did she launch her own, self-named label TaylorSays (which is pronounced "Taylor Sez," according to the designer herself).
On her website Taylor explains how she moved from artist to shoe designer:
I literally paint on anything and everything that's out there. I'm talking motorcycles, skateboards, sufrboards, tennis shoes, you name it I have definitely added my flair to it. So I figured, why not high heels? I mean I wear them all the time. It's prime real estate so it just came naturally.
New TaylorSays wedges, pre-order for $199.99 
After her own painted high heels took off Taylor began selling the shoes to her friends, and then to their friends and orders came rolling in. But business really snowballed when Taylor's sister suggested that she list her creations on handmade art site Etsy. The shoes became a crazy "overnight sensation" and Taylor's supply could not keep up with demand. "So I decided to make it happen and put it into production."
Taylor is quick to point out that this hasn't compromised the quality and says that the products in the range utilise the "best of the best materials."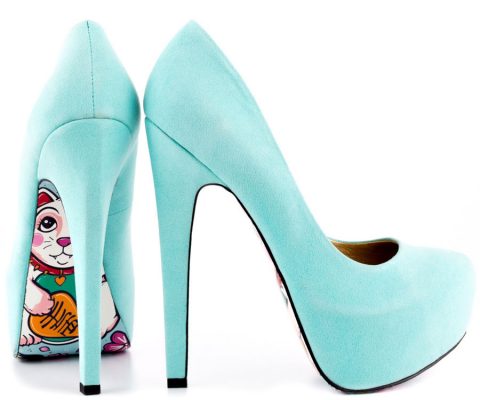 new TaylorSays light blue suede stiletto with Japanese cat sole-print – pre-order for $129.99
As for the style of the shoes, Taylors says that TaylorSays is "all about having fun, being unique, being bold and just really making it your own. You can take it any way you want to and have fun with it." I can see where she's coming from with that. Having fun with this range of quirky and eye-catching high heels really doesn't seem  all that difficult to do.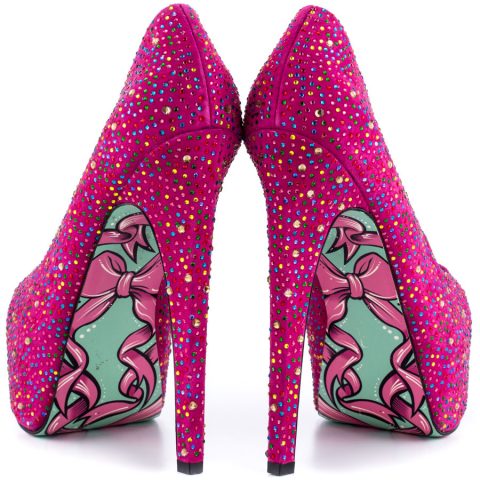 TaylorSays Pink Lady has a pink upper encrusted with multi colour stones, and a ribbon design on the sole. It's available for pre-order for $199.99.