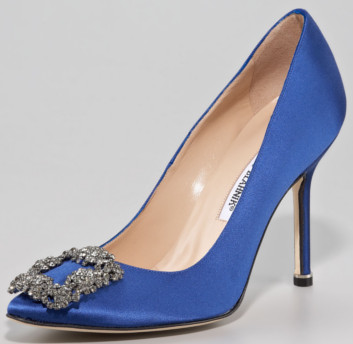 Chosen by Carrie Bradsaw as her "something blue" for her wedding in the Sex and the City movie, Manolo Blahnik's "Hangisi" satin pumps are one of the most famous – and coveted – shoes of recent years. However they are not cheap. In the 2008 movie Carrie stated they cost $525 per pair. The current day price for a pair of these heels (which are pictured above) is $965 via Neiman Marcus.
The good news is that a new "the look for less" option is now available in the form of these new $99 blue satin pumps called Bonique by Nina
. Unfortunately there's sometimes a fine line between using a famous pump as inspiration, and coming out with a straight out knockoff and these pumps do push that line.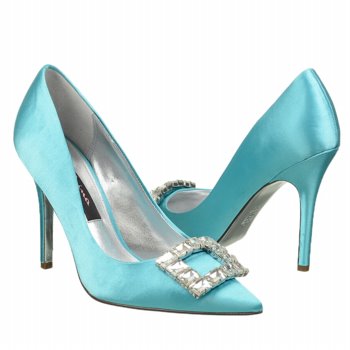 Bonique by Nina (pictured above) is new to shoes.com and costs only $99
. The version of the shoe we've pictured here is a much lighter shade of blue than the cobalt blue of the Blahnik shoe. I think that creates little risk of confusion: you can definitely see the similarities, but there is no risk of mistaking the two either.
Unfortunately the designers have also produced the shoe in a colour that is very similar to the Blahnik shoe. We're not going to feature that shade here because I think that crosses the line into ripoff territory. Although there are subtle differences between the shoes, both are a very similarly shaped classical pump and the colour was one of the unique identifying features of the famous designer heel. It was Carrie's "something blue," after all.
Going back to the comparison, both shoes also have a square-shaped ornament at their toe, but the layouts are quite different. The ornament on the Manolo Blahnik version is made of crystals, and the Nina version is made of cheaper rhinestones. Finally, the Bonique by Nina has a higher heel: around 4 inches verses 3 1/4 inches on the Manolo Blahnik Hangisi.
On balance, and providing you select the lighter blue colour, we think that for just $99
this is a great way of getting the look that Manolo Blahnik inspired all those years ago without ripping off the designer's actual shoe. But if you want a shoe in a cobalt blue colour similar to the Blahnik pump, then do what is right and shell out the money for the real thing.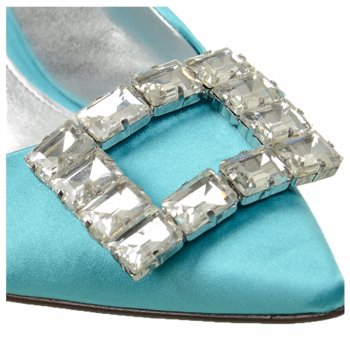 In you're now in the mood for more Blahnik action, you can see the scene from the Sex and the City movie in which Carrie wears her blue Manolo Blahniks for her wedding in the video clip below.
[youtube=http://www.youtube.com/watch?v=UQEHtGdq1mE#t=213]
Nina Women's Bonique Shoes (Tiff Blue Satin)