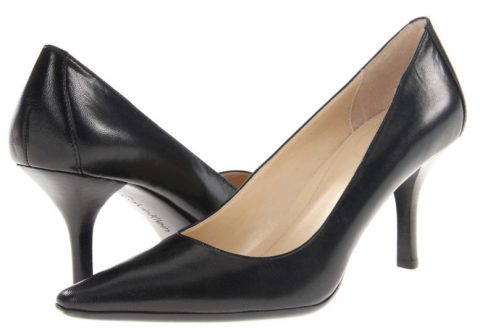 The search for black work pumps is never easy because the criteria are so demanding. The ideal high heel for the office has to be reasonably sensible but still fashionable, as well as hard-wearing and – ideally – moderately priced. Recently we noticed that a pair of 3 inch black pumps seemed to fit the bill on all these fronts, and it was topping Zappos' best-sellers list. Figuring the crowd couldn't be wrong, we're featuring these shoes today.
The heels are called Dolly by Calvin Klein, and they have over 640 reviews on Zappos for an average four star rating! Dolly has a three inch heel and pointed toe and is available via Zappos for just $69
. Reviewers on that website highlight the pump's style, comfort level and fit as being reasons to rate this shoe so highly.
As well as the black leather pictured here, the shoe also comes in black patent leather, black suede, brown, taupe, navy and several other colours suitable for the office. Check Zappos for all the colour options
. So, if you're looking for a high heel for the office that isn't too high, we can't do better than say that Dolly by Calvin Klein is both a popular buy and highly recommended.