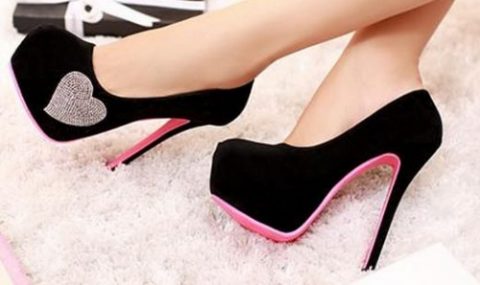 First the good news: these fun, love-themed high heels would be a great talking point for Valentine's Day. They're not expensive either: we tracked them down in the new arrivals at an online retailer for $68.95, a discount of 70%.
Unfortunately the retailer disappeared from the internet as quickly as it arrived – it was gone by April 2016 – so we've not been able to continue to keep a link to purchase these on our site. But hopefully you will enjoy the pictures.
All we really knew about these shoes was that they were made in China and the faux diamond crystals are not only florescent but also waterproof apparently. Possibly useful if you're planning on going for a Valentine's Day swim I suppose.
They were also never sold in a size bigger than a US 7. Back when they were available you could buy them in two colours – black (above) and blue (see below).