Nicholas Kirkwood's collection for spring and summer 2014 has arrived on the designer's website, and there are some gems in amongst it as we've come to expect. None better though than this elegant black on white lace-fused suede pointed toe pump. The lace look is undoubtedly in right now – we've covered both ends of the range from
$41 lace stilettos
to
Jimmy Choo's £450 (US$750)
take on the trend – and Nicholas Kirkwood has nailed it with these pumps. They
retail for £420
(about US$700) from Nicholas Kirkwood's website.
Also very pretty is the navy suede and silk satin "S" sandal with 105mm (about 4 inch) heel. They're highlighted with a glitter trim.  The touch of PVC is probably necessary to make the "S" illusion work, and hopefully won't be too prominent when worn. The sandals cost £540 (US$900).
The collection also includes an almost compulsory pair of the Nicholas Kirkwood angled platforms.  I am starting to feel bored of this design, I must say. I feel the same way about it as I do when I see the Alexander McQueen Armadillo heel these days: move on already. McQueen is long dead, so it is understandable that his look should be frozen in time but I wonder what Nicholas Kirkwood's excuse is? Every designer is searching for their signature look I suppose.
On the bright side, the collection is limited to just one pair of the angled platforms, and they are magnificent. In a gorgeous orange raffia, the round toe platform has a shimmering hammered gold platform and heel. The platform height is 30mm (just over 1 inch) and the heel height 130mm (just over 5 inches), making for an effective heel height of 4 inches. They retail for £640 (US$1,062) from Nicholas Kirkwood.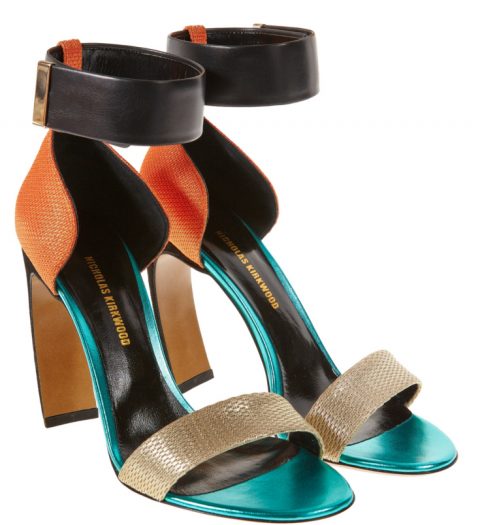 The the rest of the collection doesn't excite the interest so much. If colour-blocked sandals are your thing though (we say they're on the way out) then you'll be in heaven. See the whole Nicholas Kirkwood spring / summer 2014 collection here.